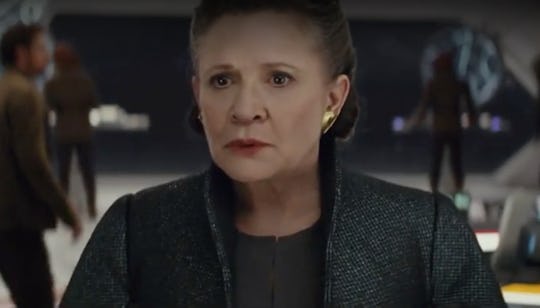 Walt Disney Studios
'The Last Jedi' Captures Carrie Fisher's Final Performance
Some Star Wars fans might be surprised by how extensive Carrie Fisher's presence is throughout The Last Jedi because she died before the film's release. How much she would be in the film was definitely a question on audience members' minds, but figuring out when The Last Jedi was filmed makes it clear that there was never an issue with Fisher's Leia Organa having as much screen time as she needed. The future of the franchise is less assured than its present, however.
Director Rian Johnson announced that filming for The Last Jedi had finished in July 2016, which was a full five months before Fisher passed on Dec. 27; the film was in post-production at the time of her death. The fact that Fisher had completed the shooting of her scenes meant Lucasfilm didn't have to worry about finding ways to work around what happened, and Johnson was grateful to have captured everything they needed from Fisher. He told Rolling Stone, "We didn't end up changing a thing. Luckily, we had a totally complete performance from her."
Unfortunately, changes will come as the franchise moves forward. Initially it was thought that unused footage or perhaps digital recreations could be used to finish up Leia's storyline in the still-untitled Episode IX, but it has since been announced that The Last Jedi was Fisher's last Star Wars film.
During a Star Wars panel at New York Comic Con 2017, longtime co-star Mark Hamill spoke about how the next installment would handle Fisher's death and expressed disappointment that Leia would not get the proper send-off everyone might have wished for. "I know they're going to try and find a way to close her story in [Episode] 9 that gives her the respect she deserves, because [Han Solo] was more prominent in 7, Luke's a little more prominent in 8, and certainly Leia was meant to be more prominent in 9," Hamill said.
Though Leia's arc in The Last Jedi was able to have a beginning, middle, and end, that film was just one part of a whole; it was never intended to be the finale of Fisher's character, so steps have to be taken to readjust. Episode IX needs to be rewritten to account for all the alterations and its release has been pushed back to Dec. 20, 2019 to deal with that, as well as the replacing of director Colin Trevorrow with J.J. Abrams.
The loss of Fisher was intensely heartbreaking and the incomplete arc of Leia's character will be disappointing for fans, but they will still get to enjoy Fisher's last performance — and Johnson assured prospective viewers that she was wonderful in The Last Jedi. "She is so good in it," he said to The Salt Lake Tribune. "I always think about the fans who didn't know her in real life and grew up watching her and it's like they're all going through their own type of loss. It's really going to be emotional for people who she means something to see this. I hope it'll be good. I hope it'll mean something to them."
With two years to wait before Episode IX, fans don't have to worry yet about what the finished product will be like. Filming reportedly doesn't even begin until June 2018, giving the production team plenty of time to navigate unforeseen difficulties. And whatever happens in the future, The Last Jedi will always stand as a tribute to Fisher and a showcase for the character she brought to life with such skill year after year. It was definitely lucky that she was able to finish filming, so now fans will always have that performance.
Check out Romper's new video series, Romper's Doula Diaries:
Watch full episodes of Romper's Doula Diaries on Facebook Watch.