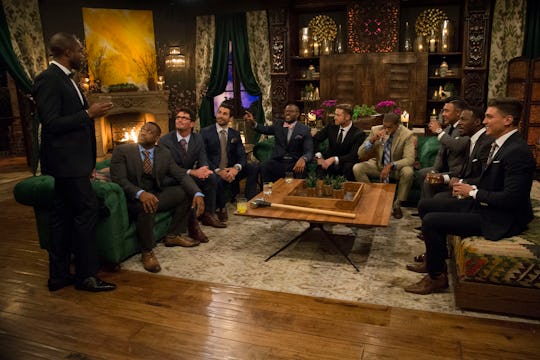 Paul Hebert/ABC
The "Men Tell All" Episode Of 'The Bachelorette' Is Fresh For The Contestants
The "Men Tell All" reunion episode of The Bachelorette can often be filled with a ton of excitement. Fights that arose during filming tend to be resurrected for the purposes of really good TV, and this time with the bonus of a live audience. This season's most controversial contestant, DeMario Jackson, recently announced he would be in attendance, meaning that as a nation (a Bachelor Nation, if you will) we should definitely expect some drama. So when was the "Men Tell All" filmed?
According to Life & Style, the " Men Tell All" was filmed in Los Angeles on Friday, July 21, and apparently #TeamDean has not gotten any less open with their affections, even after he was sent home by Rachel a few episodes ago. From what it sounds like, out of all of them men, he was the star of the evening.
"Dean ended up receiving the most applause from the audience," an "insider" revealed. "It was obvious he was the crowd's favorite. Many of the girls were fawning over him. He would make a great Bachelor." So now if Dean becomes the next Bachelor, he might want to thank this person for being a ride or die member of his #Team. Dean was actually asking Twitter for some fashion advice the day before taping.
Oh, Dean. Hopefully he figured out something to wear. As for the rest of the guys, it's pretty much guaranteed that there will be focus on DeMario and his Bachelor in Paradise sexual assault scandal. Although DeMario and Corinne Olympios will sit down for interviews by themselves, The Bachelorette has never been the show to shy away from the chance to get people to talk about things they might not want to discuss. (But, you know, I think DeMario appearing on the "Men Tell All" in the first place is enough to prove that he doesn't really mind talking about it.)
Rachel also planned to confront Lee at the show. "I feel different about Lee," she revealed to ET Online. "I've read things, I've seen things that I didn't know about him before." She was, of course, referring to the racist tweets Lee posted and came under fire for from fans. It's safe to say she didn't seem too thrilled about the offensive remarks he made.
I know I'll be waiting not-so-patiently to see how this all plays out.