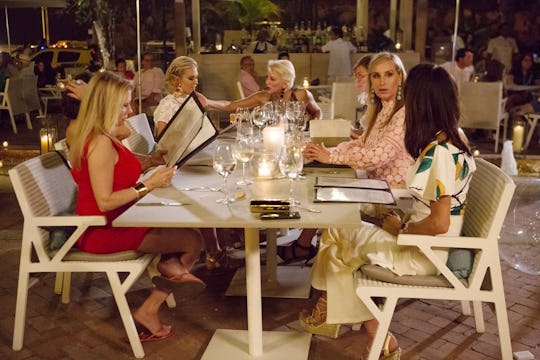 Paul Cheney/Bravo
The 'RHONY' Reunion Is Right Around The Corner
Every season of The Real Housewives of New York is full of the kind of drama and messiness that fans have come to expect and love. But the best part of the season is arguably the reunion, which is filmed after the events of each season. So, when was the RHONY reunion filmed for Season 10? The long running Bravo series is one of the first of the franchise, so for some fans, it holds a special place in their hearts.
Like any other reality TV show reunion, it was filmed ahead of time. According to The Good Time Tea, the RHONY reunion was filmed on July 17, which means it was filmed a month or so before it will air on Bravo. It may not be live, but at least it wasn't filmed so far in advance that much has changed with the Housewives themselves.
Shortly before the reunion filming date, Luann de Lesseps entered rehab for her alcohol addiction. Bethenny Frankel told People at the time that it was "the healthiest choice for [Luann] not to attend Tuesday's reunion taping so that she can continue in her healing process." So, the July 17 filming date seems legit.
Unfortunately, this meant that Luann wouldn't be on hand to address anything from her own story line for the season, but she did reveal in a recent interview on Megyn Kelly TODAY what she would have talked about.
"Dorinda [Medley] and I are still not cool, which is unfortunate," the RHONY star said. "I love Dorinda, but you know, there are some issues to be addressed, and I hope that we're gonna turn that relationship around. Because I love Dorinda. I've known her for a long time, so I hope we resolve it. And I'm sure at some point, we will. We're just not there yet."
She did point out the benefits of the reunion for the cast, which in turn, make great TV for viewers. "I love the reunion, because it's where you can air your grievances and not get edited," she said in the interview. "You get to say what you want to say about the entire season. So, for me, it's about my honest truth and how I feel. So, I like the reunion." Same, Luann, same.
Although we won't see Luann on the RHONY reunion this season, there's still plenty to look forward to. The three-part reunion looks like it's going to be all kinds of epic in the preview, with Andy Cohen playing moderator and devil's advocate, as per usual. This season saw a ton of ups and downs for the cast of the long running Real Housewives show. Bethenny and Carole Radziwill's falling out is likely to be addressed as well as Ramona Singer's own issues with Bethenny.
Basically, it looks like it's going to be yet another all out reality TV war on stage. And I'm sure we can expect tons of drama and fighting from the cast. "This is like Game of Thrones," Bethenny says in the trailer. "I'm like the mother of dragons fighting multiple blondes." Um, yes please.
Although the entire cast won't be present when the first part of the RHONY reunion airs on August 22, it definitely looks like it's going to be a classic Real Housewives reunion for the books. And since it was all filmed relatively recently, chances are, any issues the women have for each other on-stage during the taping are still alive and well right now.