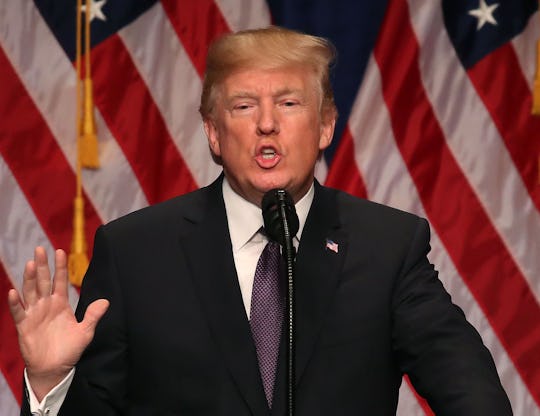 Mark Wilson/Getty Images News/Getty Images
Trump's First *Official* State Of The Union Address Is Around The Corner
President Donald Trump has taken his own unique approach to presidency. After he, his administration, and his supporters celebrated one year in office on Saturday, the past 12 months have left many people unhappy and uneasy. On Tuesday, Jan. 30, Trump will display this unconventional approach when he addresses the people of the United States during a State of the Union address. But if you were wondering when Trump's last State of the Union address was, you should know that the answer to that is a little complicated.
This is because this will be Trump's first State of the Union speech, according to NBC News. Yes, Trump went a little over 365 days into his presidency without giving a State of the Union speech. State of the Union speeches are given to Congress members (and broadcast on TV at the same time) to inform them about the issues and measures that the president believes are "necessary and expedient," according to This Nation.
In the past, some presidents have felt like giving these speeches are absolutely necessary, while others have not taken advantage of it. This speech is imperative, especially since Trump has a lot that he wants Congress to do (ahem, build that wall). And Trump will finally get to push that agenda when he gives his speech next week.
But if you thought that Trump had already given a State of the Union speech, you're not necessarily wrong. In February of last year, Trump did address a joint session of Congress, according to CNN, but it didn't count as a State of the Union address. Instead, it was called an "address to a joint session" and is delivered in the same style as a State of the Union address. During this speech, according to NPR, Trump called for "the repeal and replacement of Obamacare" and reinstated his thoughts on immigration and national security. Trump's health care bill saw a major failure last year when Senate failed to kill Obamacare, so it will be interesting to see what Trump makes as a priority in his current State of the Union address.
While it might seem a little weird for Trump to wait this long to address Congress (and everyone else for that matter), it isn't. Traditionally speaking, according to CNN, presidents wait up to a year before giving their first State of the Union address. So while Trump is a little unconventional (example: he never held political office until he became president), waiting to give his State of the Union speech is completely in line with former presidents.
So what is in store for Trump's first State of the Union address? It could definitely get interesting. Some Democratic House members are planning on inviting victims of sexual assault to attend the speech "to highlight the issue," according to NBC News and some members of Congress aren't even planning on attending. And as for the speech's content, it isn't exactly clear what he'll talk about (because, as previously stated, he's very, very unpredictable). But according to CBS News, it is likely that Trump will talk about the successes in the nation, first, like the economy and tax cuts, and then move on to addressing the problems, like infrastructure, which is a popular topic among voters.
This first time speech will also be a major opportunity for Trump to convince people to place their trust in him and allow him to win them over. Especially since, according to Gallup News, Trump averaged a 38.4 percent approval rating in his first year of presidency, making it the lowest average approval rating ever for a president. If Trump nails this televised speech, then he could certainly win over a lot of his doubters.
Needless to say, a lot is riding on this speech and Trump should certainly feel the pressure going into on Tuesday night. But with Trump, it's definitely best to expect the unexpected.
Check out Romper's new video series, Romper's Doula Diaries:
Watch full episodes of Romper's Doula Diaries on Facebook Watch.