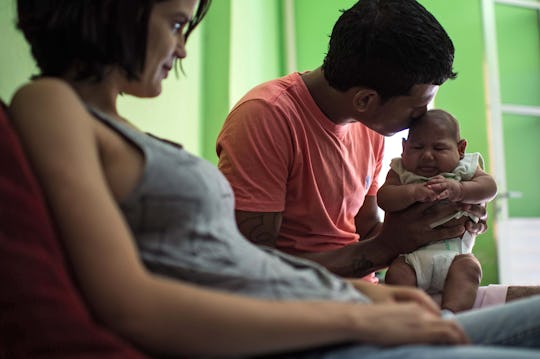 CHRISTOPHE SIMON/AFP/Getty Images
When Will A Zika Vaccine Will Be Available? Researchers Say It's Not Coming Anytime Soon
For mothers worried about the prospect of contracting the Zika virus, vaccine protection could still be years away, according to the New York Times. In an article quoting World Health Organization researchers speaking at a press conference Wednesday, the Times reported that a Zika vaccine could take years to develop — and may come too late to address the outbreak of Zika infections currently spreading through Central and South America, or to help the thousands of pregnant women and babies at risk for contracting the disease. What's more, researchers offered different opinions on exactly when a Zika vaccine will be available to the public; some said that it could take as long as two years to make an effective vaccine available for distribution, while others were far less optimistic.
Now that world health officials have officially classified Zika as a global health emergency, WHO leaders said this week that some 60 organizations around the world were working on products to combat the spread of the Zika virus, the Times reported. Of those organizations, WHO Assistant Director General Marie-Paule Kieny confirmed that 18 were actively working toward developing a Zika vaccine. But researchers seemed to disagree on exactly how long development might take.
Speaking to BBC News earlier this month, Dr. Anthony Fauci, who directs the National Institute of Allergy and Infectious Diseases, said that a Zika vaccine could be ready for human trials as early as this September:
We will have a vaccine ready to go into humans to test - not to distribute - but to test for safety and whether it induces a response that you can predict will be protective. That phase 1 trial I believe will likely start towards the end of this summer or early fall.
Still, Fauci cautioned that human trials were an early step in an otherwise lengthy development process. And the irony is that proper vaccine testing depends on the outbreak remaining a threat to large populations of people. According to CNN, if the number of infected people began to taper off, it might not be possible to conduct large-scale studies to test how large a dose might be needed, potential side effects, and whether the Zika vaccine is effective in protecting at-risk populations.
With global health leaders predicting some three to four million new Zika infections this year, it's unlikely that the epidemic will be over soon. Still, WHO officials cautioned against offering too rosy a picture for vaccine development. At a meeting in Geneva this week, Kieny said that, even with multiple companies and institutes working on vaccines, large-scale Zika trials were 18 months away at least, CNN reported.
After that, the slow and deliberate process for getting a vaccine ready for mass consumption typically takes around 10 years, French researcher Nicholas Jackson recently told CNN. According to Jackson, who is head of vaccine research for Sanofi, one of the companies currently leading the search for a vaccine, the biggest barrier is how little scientists know about Zika compared to other diseases. Without basic information about the viruses basic makeup and the rate that it spreads, health researchers face "considerable" challenges in vaccine development, Jackson told the outlet:
We have a jump start here because we have experts in-house, technologies in-house; we have an infrastructure that we put in place around dengue vaccine we can tap into very quickly, which will hopefully take off (time from) the typical timeline.
Between the current projections for Zika infections and the lengthy timeline for vaccine development, health experts were focused on stemming the spread of the disease and helping communities to limit exposure, Kieny told the Times. She said that spraying insecticides and helping families to keep mosquitoes out of their homes remain among the top priorities as officials continued to search for more effective methods. "We must be sure that we invest in interventions that work," Kieny said.