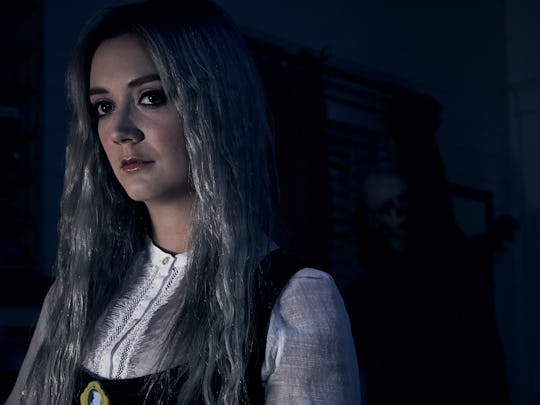 Frank Ockenfels/FX
Here's When You Can Expect 'AHS: Cult' To Hit Netflix
Gone are the days of 24 episode seasons of hit TV shows — and honestly, I'm grateful. Not only are American Horror Story seasons around half that (anywhere from 10 to 13 a season), but they usually arrive on Netflix, prime for binge-watching. Seeing as Tuesday's episode of AHS: Cult is the finale, viewers may wonder when will AHS: Cult be on Netflix? Other seasons are (thankfully) already on the streaming platform, so its only a matter of time before Season 7 joins their ranks.
As of now, all six prior seasons of American Horror Story are on Netflix. I have a truly horrifying story, though: this may change soon. This summer, Hulu announced a deal with 20th Century Fox where Fox would add full libraries of their programming — from How I Met Your Mother to M.A.S.H — to Hulu. Prior to that announcement on July 19, Hulu already had the exclusive rights to some 20th Century Fox shows, such as Empire and Homeland. This new agreement expands on the amount of the distribution company's content that will be on Hulu as opposed to Netflix (or any other streaming site).
As a result, Fox TV shows have been disappearing from Netflix at an alarming rate. House, The X-Files, Lie to Me, and many more left the platform earlier this year.
What about FX shows, though? Some outlets have predicted that FX shows will also leave Netflix, which would include American Horror Story (and others, like It's Always Sunny in Philadelphia). Thankfully, full seasons of both AHS and It's Always Sunny are still on Netflix, so that isn't the case right now, bthat doesn't mean it may not happen eventually. According to TechCrunch, the eleven seasons of It's Always Sunny currently housed on Netflix will leave in December, though that has yet to be confirmed.
Is American Horror Story next? There may be some hope that it's staying on Netflix despite the Hulu deal and disappearing Fox shows. TechCrunch also noted that Netflix was able to secure the rights for it again right as it was about to expire. So, unless a new deal is reached or the license expires fairly quickly, I think Netflix users can watch their AHS without haste for now.
It's a good thing, too, because season six of AHS has only been on the site for a short time. AHS: Roanoke became available on Netflix in October of this year. It aired around the similar time that Cult is now, September to November 2016. That means it took almost a year from the time the season ended to land on Netflix. While it's uncertain when exactly AHS: Cult will arrive, it's safe to say it will probably be a while and follow a very similiar pattern. With that in mind, I'd expect for it to pop up in October of 2018.
That is, if Netflix doesn't lose all of American Horror Story between now and then. If I had to guess, though, if that happens then it'll probably be on Hulu not long after. As someone who splurges on both services every month, I don't mind — but I'm sure die-hard Netflix users would miss having every season at their disposal. Until that happens, though, viewers can enjoy Murder House through Roanoke on Netflix. FX also just launched its own steaming service, FX+, in September. If one wants to watch all the AHS (not to mention American Crime Story, Atlanta, and others), FX+ is available for $6/month as well.
Check out Romper's new video series, Romper's Doula Diaries:
Watch full episodes of Romper's Doula Diaries on Facebook Watch.