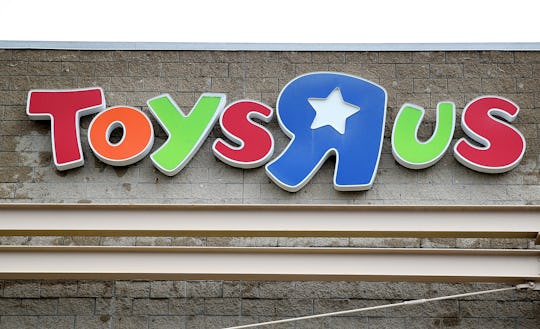 Justin Sullivan/Getty Images News/Getty Images
PSA: If You've Got A Toys "R" Us Or Babies "R" Us Gift Card, You'll Wanna Use Them Fast
If you're a millennial parent like me, then all of your childhood hopes and dreams were probably crushed upon finding out that all Toys "R" Us stores will soon be closing their doors for good. Roaming the endless aisles of toys and games as children was like a rite of passage — with quite a few parents today have carrying on this magical experience with their own kids. But alas, the end of an era has arrived. So when will Babies and Toys "R" Us gift cards expire? You'll definitely want to use them sooner rather than later.
Toys "R" Us spokesperson Taylor O'Donnell revealed that the toy store chain will honor gift cards for the next 30 days, USA Today reported on Thursday. So time's a ticking, folks! This may seem like bad news at first ("Holy crap, only one month left to use up those gift cards!"), however, retailers aren't actually required to honor gift cards during bankruptcy at all. So this is actually fantastic news for families who still have unused gift cards lying around. Besides, even if Toys "R" Us would have accepted gift cards until every last store closed its doors, let's face it: The selection will probably get picked over pretty quickly with the inevitable going-out-of-business sales on the horizon.
News that all 800 of its U.S, stores will be closing undoubtedly comes as a shock to customers — especially since both Toys "R" Us and Babies "R" Us tweeted a promising message just last week. "To our loyal customers: We've seen an amazing outpouring of love and support in recent days and we truly appreciate it," the wrote on Twitter. "Our stores are open for business, ready to bring joy to children wherever we can, and to help new and expecting parents navigate raising a family." So far, it doesn't seem that there has been any tweets addressing the latest news of all stores closing.
Back in September is when the company initially filed for bankruptcy, Forbes reported. At the time, it seemed as if the company intended to keep all of its stores' doors open. "We are confident that these are the right steps to ensure that the iconic Toys 'R' Us and Babies 'R' Us brands live on for many generations," said CEO and chairman Dave Brandon in a news release, according to CNBC. However, it soon became clear that Toys "R" Us was faring much worse than it initially let on. After a disappointing holiday sales season, the retailer revealed it would close 182 stores in the U.S., The Washington Post reported.
Alas, as The Washington Post reported on Wednesday, the end really is near for our beloved Toys "R" Us and Babies "R" Us ARE BOTH CLOSING? — ultimately affecting 33,000 jobs in the process.
"I am very disappointed with the result, but we no longer have the financial support to continue the Company's U.S. operations," Brandon said in a news release. "We are therefore implementing an orderly process to shutter our U.S. operations and will pursue going concern sales or reorganizations of certain of our international businesses, while our other international businesses consider their options." After thanking the company's team members, his colleagues, board members, and vendors, Brandon continued:
This is a profoundly sad day for us as well as the millions of kids and families who we have served for the past 70 years.
So parents and parents-to-be who have gifts cards to Toys "R" Us or Babies "R" Us, be warned: The countdown is on to make your last purchases from the iconic stores. You have 30 days to use it, or lose it — so make the best of your final stroll down those toy-filled aisles. Because soon, Toys "R" Us will be but memory.