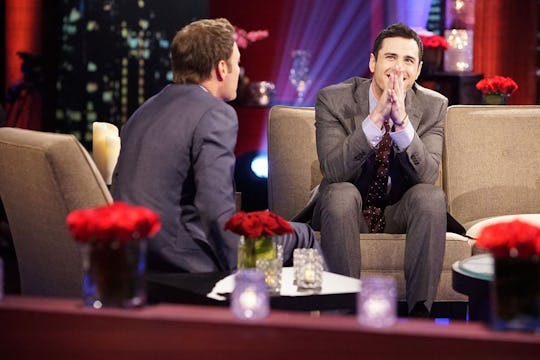 Kelsey McNeal/ABC
When Will Ben Higgins & Lauren B. Get Married? 'The Bachelor' Wedding Is Coming
The finale of The Bachelor was bittersweet. Yes, we got to celebrate a season of love culminating in a proposal, but we also now have to figure out something new to do on Monday nights. On Monday's Bachelor finale, Ben Higgins proposed to Lauren Bushnell. The couple, who fans were rooting for from the beginning of the show, were finally able to walk off into their romantic sunset and into the "After the Final Rose" studios for Chris Harrison to interview the happy couple. Of course, it wouldn't have been a proper "After the Final Rose" interview if Chris didn't ask when Bachelor couple Ben Higgins and Lauren Bushnell would be getting married now that the show is over and the two can return to a seemingly normal life.
Lauren says that she doesn't want a long engagement — which was alarming, considering there was a pastor waiting in the wings — but they also want to date for a little bit. Don't forget, these two have yet to actually exist as a real couple.
Although the franchise doesn't have the best track record, Ben and Lauren wouldn't be the first couple to get married after that final rose. In the past, Bachelor couples like Des and Chris Siegfried, Ashley and J.P. Rosenbaum, Sean and Catherine Lowe, Jason and Molly Mesnick, and Trista and Ryan Sutter have also married after the show finished filming. Some of those couples actually got married on TV, which lays the groundwork for the next natural question: Will Ben and Lauren get married on TV?
Well, if Chris Harrison has anything to say about it, Lauren and Ben would have gotten married right there. Despite Chris' surprise wedding, Ben decided he and Lauren wanted to get married with their friends and family surrounding them, you know, not an audience full of strangers. So, for the time being, Ben just re-proposed to Lauren, with her family surrounding them.
So, mark your calendars for the potential nuptials. Get an outfit ready, prepare yourself for a lot of champagne, and for Chris Harrison officiating (or wait, maybe Ben's pastor?), as we celebrate the most dramatic wedding in Bachelor history, ever.