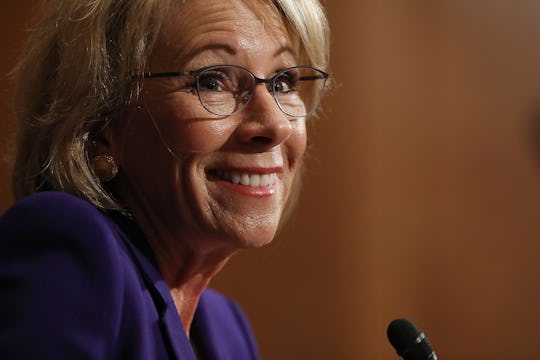 Chip Somodevilla/Getty Images News/Getty Images
Betsy DeVos' Swearing-In Is Sooner Than You Think
On Tuesday, Betsy DeVos was confirmed as education secretary by the Senate, after a contentious and incredibly close confirmation process in which Vice President Mike Pence cast the tie-breaking vote. But when will Betsy DeVos be sworn in as education secretary, and get to work? It's sooner than you think — probably any minute now.
DeVos, a charter school advocate who does not have much familiarity with the public school system that she will soon oversee, and who has donated millions of dollars to Republicans, stumbled badly at her confirmation hearing in January. Notably, she was unfamiliar with the basic educational debate between growth and proficiency, did not seem to know that the Individuals with Disabilities Education Act was a federal law, and, in a jaw-dropping and widely-mocked comment, defended guns in schools because of potential grizzly bear attacks.
In the weeks since, outraged constituents flooded Senate offices with phone calls, Democrats held the Senate floor all night long before Tuesday's vote to reiterate their reasons for opposing DeVos, and two Republicans senators, Susan Collins from Maine and Lisa Murkowski from Alaska, joined all the Senate Democrats and Independents to vote no on DeVos' confirmation, making the final vote 50 to 50.
But ultimately, DeVos squeaked by because of Pence, the first time a vice president had to cast a deciding vote on a Cabinet nominee in the country's history.
And, after a longer-than-expected confirmation process, Republicans weren't going to waste any more time. So on Tuesday evening, they set her swearing-in for 5:30 p.m. Eastern Time. (In the end, after a short delay, Pence swore DeVos in for her new position at 6 p.m. Eastern Time.)
Now that DeVos is officially in charge, many with children in public schools are anxiously holding their breath, since one of her signature issues is school choice, which allows public education funds to be diverted to private, religious, and for-profit schools. Many have been critical of DeVos's education record in Michigan, where she advocated for charter schools and, critics claimed, privileged private interests over benefits for all students.
Still, as NPR pointed out, DeVos won't be able to single-handedly remake America's education system, since a lot of education decisions are still up to the states, and less than 10 percent of school funding for K-12 education comes from the federal government.
For those feeling worried and disheartened after a tough fight, Upworthy has a great list of what to do next, including getting involved with the National Education Association, and focusing on the midterm elections. Although DeVos's swearing in marks the end of this particular fight, there will be plenty more to come.