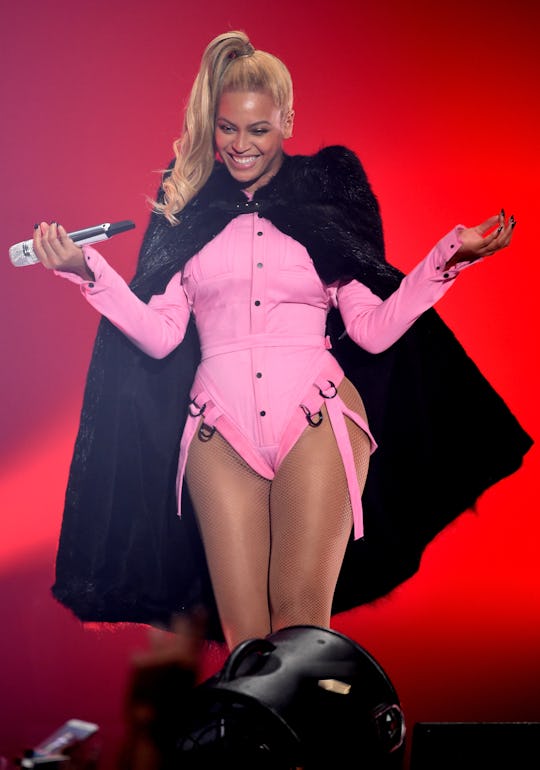 When Will Beyonce Release Her Next Album? She Could Drop Big News During The Super Bowl
Beyoncé will likely kill her performance for this year's Super Bowl halftime show. While she has been anything but in hiding, people are wondering when Beyoncé will release her next album. There's some good news: not only is there a possible release date circulating, but it is sooner than you think.
The Sun reported on Thursday that Beyoncé will not only announce a new record, but she'll also release details of a world tour on Feb. 7. On the same day, Beyoncé will perform with Coldplay during the Super Bowl halftime show. But why the two-year wait for this long-rumored album? A source told the Sun that Beyoncé finished the album at the end of 2015 but held off on releasing it so she wouldn't have to compete with Adele's 25. (Smart cookie.) "Now Adele's sales are starting to die down, Beyoncé is ready to drop her album at any time. But there's a very strong chance the announcement could happen during the Super Bowl next month," the source told The Sun.
And what is to be expected? Though the album's name hasn't been officially announced, rumors have said Sia and Future could make appearances on it since they've both worked with Beyoncé over the last two years. In fact, Sia has spoken about what it's like to write with her (and Adele, how apropos). In a December Rolling Stone interview, Sia described the meticulous sessions writing for Bey as "camp." She said, "She visits each room and will contribute and let us know what she's feeling and what she's not feeling. Lyrically, melodically, anything," according to Rolling Stone:
She's very Frankenstein when she comes to songs. She'll say, 'I like the verse from that. I like the pre-chorus from that. Can you try mixing it with that?' In the end, she had maybe 25 songs of mine on hold, and I was very excited to get a couple of them back. Definitely one is on the album [This Is Acting].
Beyoncé released her last, self-titled album in December 2013. But it wasn't just an album, it was an experience. Each and every one of the 14 tracks had a video, giving fans a Beyoncé overload. But that isn't all Beyoncé had to offer. It also included collaborations with Drake, Jay-Z, Frank Ocean, and even her own daughter Blue Ivy.
Though musicians typically release a physical and digital copy simultaneously, Beyoncé opted for just the latter, dropping Beyoncé on iTunes. But she had good reason for it. "I didn't want to release my music the way I've done it," Beyoncé said, according to ABC News. "I am bored with that. I feel like I am able to speak directly to my fans. There's so much that gets between the music, the artist and the fans. I felt like I didn't want anybody to give the message when my record is coming out. I just want this to come out when it's ready and from me to my fans."
So if Beyoncé is any indication of what her next album could offer, it's will probably be epic.
Image: Jamie McCarthy/Getty Images Entertainment