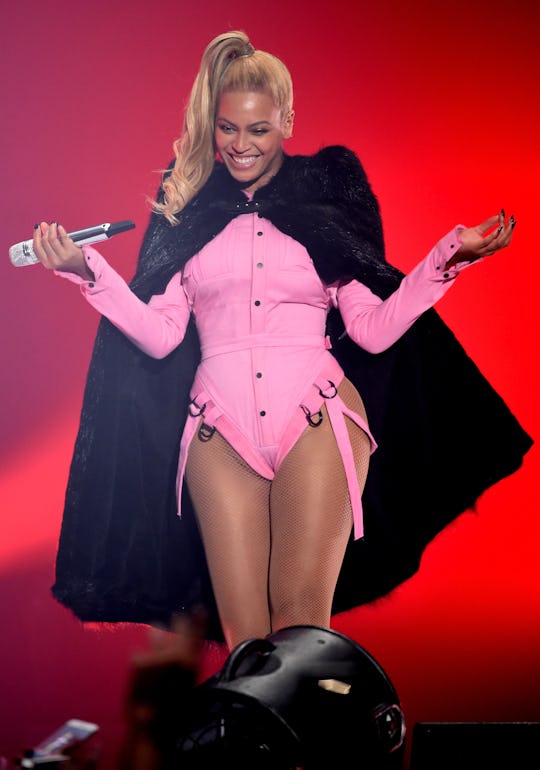 When Will Beyonce Release New Music? A Coldplay Collaboration Is On Its Way
Midnight. Dec. 13, 2013. A day Beyoncé fans will never forget. For that's when the former Destiny's Child songstress and current dominator of all things fabulous released her last album, BEYONCÉ, at midnight, to the shock of everyone except, well, Beyoncé herself. But, after listening to "Drunk In Love" endlessly on loop and buying as many "SURFBOARD" sweatshirts they could find, fans have been starved of more music from the superstar. But, on Friday comes great news — new music from Beyoncé and Coldplay will be released in December. 
Now, before y'all go crazy (in love), keep in mind that this collaboration is just that — Beyoncé is teaming up with the band that subliminally made you buy an Apple for their upcoming album, A Head Full Of Dreams, which will be released Dec. 4. (And Coldplay did some more heavy lifting when it comes to A Head Full Of Dream's guest list, which also includes Noel Gallagher and Tove Lo.) But, come on, whatever track or tracks Beyoncé provides guest vocals for, we know are going to be earworms that capture our hearts for several Spotify listens to come. 
We also know it's going to be a tiny bit awkward. Because we all know how close Beyoncé is with Gwyneth Paltrow... who happens to be Chris Martin's ex-husband.  
But, hey, here's guessing even Paltrow herself would be fine with the collaboration, because who isn't desperate for new Beyoncé music? And is Beyoncé's appearance on A Head Full Of Dreams a teaser for what might be coming soon? It's unclear, but here's what we do know about Beyoncé's musical future. 
Don't Believe The Rumors
Just months ago came word that the singer might have registered a handful of new songs called "Tempted," "Troubled Past," "Sunshine," "I Wanna Know," "Everything I Need," and "Prove" with The American Society of Composers, Authors and Publishers (ASCAP). But those rumors turned out to be just that — Jezebel proved a screenshot of the tracks circulating Twitter were fake. New music was everything we needed, for sure, but it was too good to be true. 
But Don't Count Her Out Entirely
As Billboard reports, several artists have talked about working with Beyoncé on music in recent months. Sure, Future might have said it was "to continue to be creative and make songs," but songs make up an album, don't they? Don't they? Artists like Bone Thugs-N-Harmony's Bizzy Bone, Mike Will Made-It, and D.R.A.M., have all excited press with indications that Beyoncé's music is on its way, with the latter even posting a picture of the artist in the studio with him in July. 
And Don't Count Her Husband Out Either
Several artists have pointed at a possible collaborative album between Beyoncé and her husband, Jay Z. Not only did Detail mention it on the red carpet of the 2015 Grammys — saying in the most clear-cut of ways, "Beyoncé and Jay Z are actually doing something together this year" — but Fuse host DJ Skee said in April that their album would be released on Jay Z's streaming service, Tidal. (That would be the type of positive press the struggling service needs.) But even if those rumors aren't true...
She'll Probably Surprise Us
Hey, Dec. 13 proved to Beyoncé fans that the singer is probably the best secret-keeper in Hollywood (which is why she's probably such a good friend to Hollywood and Washington D.C. elite alike). Do you think she'd make things easy for us this go-round? Who knows when Beyoncé will release her next album at midnight. Either way, no sleep 'til Beyoncé...
Images: Jamie McCarthy/Getty; Giphy