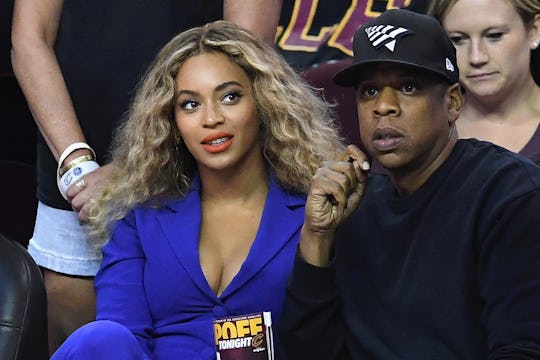 Jason Miller/Getty Images Sport/Getty Images
When Will Beyoncé Release The Twins' Names?
Beyoncé has finally given birth to her long-awaited twins, according to the Los Angeles Times. And although neither the singer or her husband JAY-Z have made a public statement about the birth, Beyoncé's father confirmed news of the birth of his newest grandchildren on social media on Sunday. What hasn't yet been confirmed are the twins' names. So the Bey-Hive is buzzing away, asking, when will Beyoncé release the twins' names? Her fans really want to know, especially if it's as unique as Blue Ivy.
The Los Angeles Times reported that Beyoncé has given birth, partly based on a post to Instagram made by Mathew Knowles, Beyoncé's father, with an image of balloons and text that read, "Happy birthday to the twins! Love, Granddad." It also included the caption "They're here!" So, unless there are some other twin grandkids he's welcoming, he probably meant Beyoncé's babies.
But very little news has been released about the twins just yet. People writer Grace Gavilanes did have some name suggestions for the singer and her rapper husband's newest additions. "Destiny," she suggested, "Because if Beyoncé has two girls, she would be credited with creating a new generation of Destiny's Child." Sasha, for Beyoncé's alter-ego, and Michelle, after Michelle Obama, were a few other offerings.
And although sources like TMZ have reported that Beyoncé gave birth to a boy and girl, even that hasn't been confirmed yet, so name suggestions are more of a shot-in-the-dark than usual at the moment. Initially, according to The Sun, because of a comment former President Barack Obama made, people thought the twins were both girls. And until an official, public statement is released by Beyoncé, it's really anyone's guess what the sex of either baby is.
And without knowing whether the twins are both boys, both girls, or one of each, it's harder to take a guess at what their names could be. Of course, names don't have to follow traditional gender norms, and it's not like Beyoncé and her husband went traditional with Blue Ivy's name.
While the world awaits the news of the names of Beyoncé's twins, people are coping in many ways. Andy McDonald over at the Huffington Post wrote a helpful guide for people in case one of the babies has their name — suggestions included "choose a new name" ("your name no longer exists for you"), and "accept that you are no longer you" (because Beyoncé clearly needed your name, for important reasons).
There are some concerns that the twins share a birthday with President Donald Trump (June 14), but reports have made the rounds suggesting that June 12 was the day the Bey-bies entered the world, in which case, former President George H.W. Bush and model Adriana Lima are some of the lucky few who would share a birthday with Beyoncé's babies.
The Mirror reported that Beyoncé's twins are being kept in the hospital for now as a precaution, possibly because they're being treated for jaundice. And for the moment, the family's focus should be on getting those babies healthy, and safely home. (Beyoncé's representative hasn't responded to Romper's request for comment regarding the rumor about jaundice.)
Releasing the names of the twins is probably not the first priority at the moment for their celebrity parents, and that's OK. The Bey-Hive can wait.