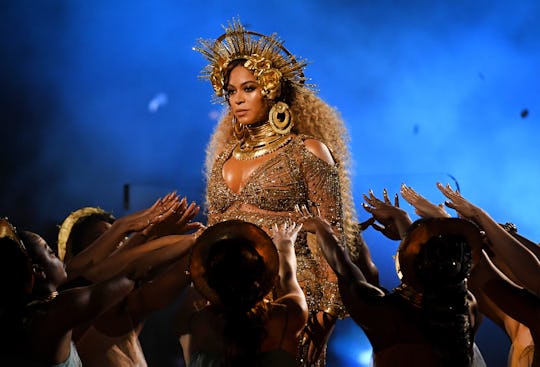 Kevork Djansezian/Getty Images Entertainment/Getty Images
When Will Beyoncé's 'Lemonade' Book Come Out?
Beyoncé may be preparing for the arrival of her soon-to-be-born twins, but that doesn't mean she's put her professional pursuits on hold. One year after the release of her acclaimed visual album, Lemonade, Beyoncé has announced that a limited-edition box set entitled How To Make Lemonade is now available for pre-order on her website, and that it will include a 600-page book featuring exclusive photos from the making of the album. When will Beyoncé's Lemonade book come out? According to Pitchfork, the set will be made-to-order, and should be shipped out this summer. In addition to the book itself, the set will also include the first pressing of the Lemonade double LP vinyl.
The set definitely sounds pretty cool, especially if you're a big Beyoncé fan. According to the description listed on the singer's online store, How To Make Lemonade gives fans "unprecedented insight into the making of multiple award-winning Lemonade," and "shows the inspiration and themes behind some of the film's most provocative and cryptic moments." The book includes a foreword by Dr. Michael Eric Dyson, poetry by Warsan Shire, and lyrics and "personal writing" by Beyoncé herself, and each book is also numbered for collector's purposes. Unfortunately, this piece of Beyoncé fandom won't come cheap: How To Make Lemonade will set you back $300.
That might be a total bummer for fans who might not have an extra few hundred dollars lying around to spend on a coffee table book and a record, but all is not lost. If you want to celebrate your love for all things Lemonade in a way that's a bit more affordable, Bey's got you covered: according to Fader, the star has also released a new line of Lemonade-themed merch online as well.
While you might not get something as fancy as a 600-page coffee table book, you can pick up a variety of tees, crop tops, hats, stickers, underwear and iPhone cases inspired by the album — not to mention a double-middle-finger-giving yellow mug with the words "Boy Bye," written on it (yes please!).
Even though Beyoncé might be about to majorly cash in on the renewed interest in Lemonade the box set is generating, she's also made a point to give back. According to Billboard, Beyoncé recently announced the creation of the Formation Scholars awards, a scholarship program for young women pursuing education in creative arts, music, literature or African-American studies. This year, one scholarship will be awarded to students from four pre-selected schools — Berklee College of Music, Howard University, Parsons School of Design, and Spelman College — in an effort to "encourage and support young women who are unafraid to think outside the box and are bold, creative, conscious, and confident."
Of course, not everyone is going to find the idea of a 600-page Beyoncé coffee table book appealing, but if there's one thing Lemonade taught the world, it's that when it comes to her work, Beyoncé is all about bringing it to the next level. So even if you aren't dying to know the insider secrets behind the making of the album, it's probably pretty safe to say that the book itself will be a work of art you'll likely be proud to show off.