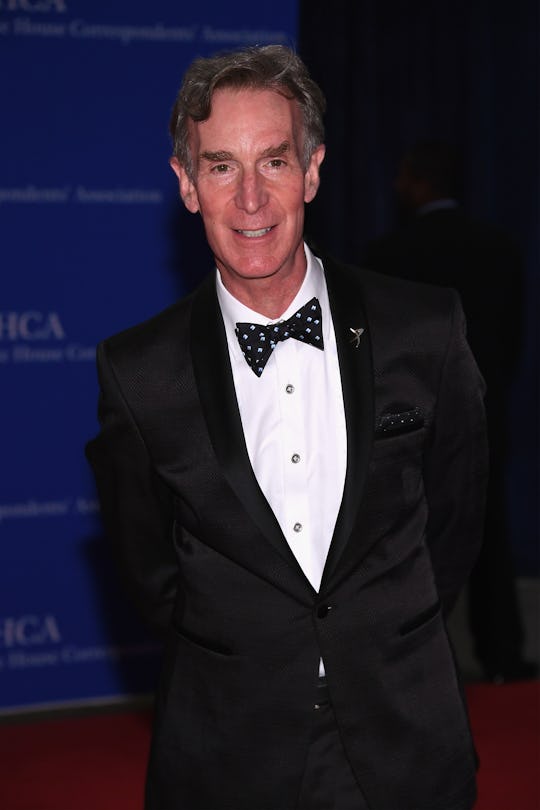 Larry Busacca/Getty Images Entertainment/Getty Images
When Will Bill Nye's Netflix Show Premiere? Look Out For The Show In 2017
In the 90's, it seemed like every science classroom had Bill Nye: The Science Guy playing on their TV at some point or another. Bill Nye incorporated fun experiments and graphics into basic science lessons, turning science class into fun for everyone. While Bill Nye's lessons live on in the hearts of '90s kids and science classrooms all across America, those lessons will continue to reach new audiences in a brand new way, thanks to a new show starring the iconic classroom scientist (and real life mechanical engineer). People everywhere are, unsurprisingly, dying to know when will Bill Nye's Netflix show will premiere — and luckily, it seems they shouldn't have to wait much longer to see it.
Netflix made the official announcement about Bill Nye's new show on Wednesday. The show will be titled Bill Nye Saves The World and will have a talk show format, where Nye will "explore science and its impact on politics, society, and pop culture," according to Variety. According to the announcement, the talk show will not only focus on science's impact, but also debunk rumors and popular myths about specific topics.
The show sounds like a great way to get both Bill Nye fans and casual Netflix viewers interested in science. But when exactly will the show air? According to Variety, Bill Nye Saves The World will premiere in spring 2017. Not too far from now.
According to IndieWire, Nye had some pretty fantastic things to say about the new show:
Since the start of the Science Guy show, I've been on a mission to change the would by getting people everywhere excited about the fundamental ideas in science. Today, I'm excited to be working with Netflix on a new show, where we we'll discuss complex scientific issues facing us today, with episodes on vaccinations, genetically modified foods, and climate change. With the right science and good writing, we'll do our best to enlighten and entertain our audience. And perhaps we'll change the world a little, too.
Seriously, can spring get here already?
Nye's television career is pretty impressive. According to Biography.com, Bill Nye: The Science Guy aired on PBS from 1993 to 1998, with each episode focusing on one specific topic — much like how Bill Nye Saves The World sounds. During the time the program was on the air, it won 19 Emmy Awards.
In the almost 20 years since Bill Nye: The Science Guy went off the air, Nye has continued to make television appearances and was even a contestant on Dancing With The Stars Season 17 where he was the second person eliminated on the show. While dancing might not have been Nye's strong suit, it is clear that science is.
This is not Netflix's first time airing a talk show, nor is it the first television personality from the 90's to get a show on the streaming service. Netflix currently airs Chelsea, a talk show starring Chelsea Handler, and in February, Netflix premiered Fuller House — a spin off of the classic family sitcom, Full House — to great reviews.
Therefore, it only makes sense to add a show starring Bill Nye into the streaming service's repertoire. (Bill, Bill, Bill, Bill.)