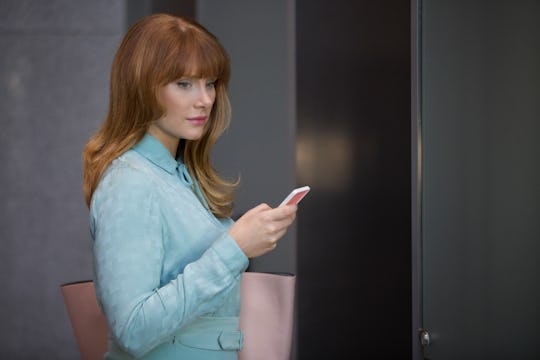 David Dettmann/Netflix
When Will 'Black Mirror' Season 4 Premiere? It Might Be A Long Wait
After working your way through every episode of Black Mirror Season 3, you may find yourself craving even more horrifying satire – or just wanting to watch YouTube videos of puppies for a while. However, if you are after more, you're in luck: Netflix initially ordered twelve episodes of the series to be produced for Season 3, but then ended up splitting them into two seasons of six episodes each. While that means the newest season is a little bit shorter than initially expected, it also means more Black Mirror is on the way. But when will Black Mirror Season 4 premiere?
The future of the series is something of a mixed bag: though new episodes are guaranteed (yay!), the release date of those new episodes is less certain (boo!). It's almost certainly going to be sometime in 2017 since the end of the year is fast approaching, but the when still isn't quite clear. Netflix is known to wait a long time between the release of seasons of its shows (sometimes up to a year or more), so it could be some time before Season 4 makes its way to the streaming platform. However, a few details about the next season have been slowly emerging, so hopefully it won't be too long.
The move from Channel 4 to Netflix allowed Black Mirror to function on a slightly grander scale than it did before. According to producer Annabel Jones, who spoke on the matter at a recent screening in London, Netflix allowed them to "play out on a bigger canvas, and take more risks, explore worlds without destabilizing the Black Mirror sensibility." She also confirmed the fourth season, but didn't provide any hints about its release date.
While the series has always featured a mix of bigger names and rising stars, the exciting people attached have only increased as the show grows in popularity. Actress Bryce Dallas Howard and directors Joe Wright (Atonement) and Dan Trachtenberg (10 Cloverfield Lane) took part in Season 3, and Season 4 has already attracted a couple of well-known players. Jodie Foster will be directing an episode in the series' fourth installment, which will star actress Rosemarie DeWitt. Foster recently made her TV directorial debut on Orange is the New Black, so she's sure to know her way around a Netflix series by now.
While not much is known beyond that, the six episodes of Season 4 are guaranteed to have just as many shocking moments, horrifying twists, and eerie familiarity as the seasons that came before it. Production is set to start sometime this year, but based on Netflix's usual release pattern, it will likely be some time before Season 4 is made available.