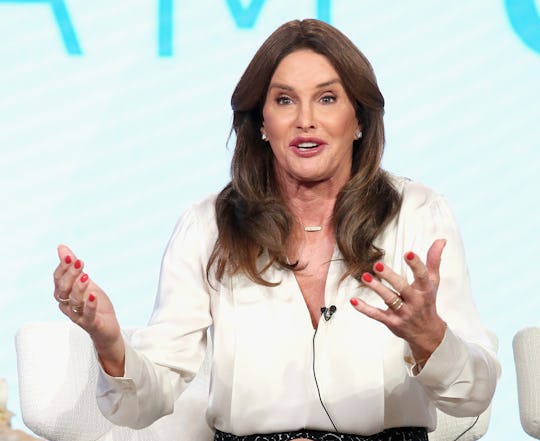 Frederick M. Brown/Getty Images
When Will Caitlyn Jenner's Memoir Come Out? The Book Will Give Readers A Closer Look At Her Important Transition
The Kardashian-Jenner clan never seem to stop, and Caitlyn Jenner is no exception. Jenner's transition from Olympic gold medalist to one of the world's most famous transgendered women took the media by storm last year, a frenzy which was probably best captured by her glamorous "Call Me Caitlyn" Vanity Fair cover in June 2015. Now, Jenner is working on a book about her journey with Pulitzer Prize-winning journalist Buzz Bissinger, which will be released by Grand Central Publishing. Jenner's memoir will be released in 2017, tentatively in the spring, according to The New York Times.
Bissinger and Jenner have already worked together in the past — Jenner's Vanity Fair cover story was written by Bissinger, and the two spent hundreds of hours together on the project, according to Today. Interest continued to spike surrounding Jenner's story, and a documentary series was soon in the works for E!, titled "I Am Cait." The show's second season will be released this March.
Jenner marked the news of the memoir by posting on Twitter, and the two seem equally excited. "Thrilled to reunite with my friend Buzz Bissinger," Jenner tweeted on Tuesday, posting a photo of the journalist smiling widely. "Honored that he's telling my full story."
Bissinger told The New York Times this week that the memoir has been in the works for a while. According to the journalist, Jenner had approached him with the idea soon after the Vanity Fair story. "I made it clear to her before I agreed that everything [had] to be on the table, nothing [could] be left out, and [I was] going to be interviewing dozens of other people," he said. "It's her book, but it's going to be reported out to keep her honest. She's been incredibly open, and I think it has the potential to be a really important book."
According to Time, Jenner also noted that the book would have the ability to describe the transition more fully, with much more detail than her Vanity Fair piece. "Things have been moving so quickly," she remarked, "that it will be nice to slow things down a bit and take the proper time to reflect on this journey."
Jenner has definitely been on a busy ride of late: Not only has she been featured in Vanity Fair and shot two seasons of "I Am Cait", she was also shortlisted as a Time Person of the Year and won the ESPY's Arthur Ashe Courage Award in 2015.
In addition — whether she likes it or not — Jenner has also been maneuvering the complicated field of representing transgendered people on a global scale, which hasn't been without its pitfalls. Previously, she drew fire for her views on marriage equality, being associated with the Republican party, and using phrases such as "man in a dress" to describe other transgendered people.
According to USA Today, at Thursday night's Television Critics Association's press conference for "I Am Cait," Jenner explained, "I'm not a spokesman for this community, I'm a spokesman for me." However, she added that "I Am Cait" did tackle problems many in the transgendered community faced, explaining,
I want to change people's thinking on this issue. It's easy for some people to dwell on the negative issues. ... It was a conscious decision to make this show about issues.
Jenner's memoir should be a much more personal look at her transition from Bruce to Caitlyn. A more concrete release date will probably be announced later in the year, but for now, expect it to hit shelves by next spring.
Images: Frederick M. Brown/Getty Images