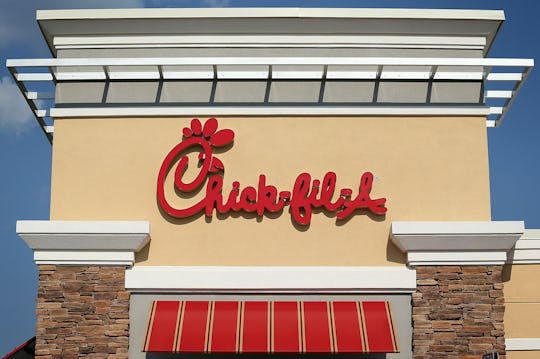 Alex Wong/Getty Images News/Getty Images
Get Ready For Family Meals From Chick-fil-A
In hopes of drawing more diners to the fast food establishment, Chick-fil-A is testing out its brand-new family meal concept in three cities. If the trial period is successful, the chain restaurant may opt to introduce the family meals to its counter service and drive-thru menus nationwide. So, when will Chick-fil-A's family meals be available to hungry chicken lovers everywhere?
Starting Monday, Chick-fil-A restaurants in Greensboro, North Carolina; Phoenix, Arizona; and San Antonio, Texas will carry the family meals, which feed a family of four. Families will get one entree, two sides, and eight mini rolls starting at $29.99. The initial testing period runs through Nov. 18, according to CNBC. The fast food chain has not yet announced whether, let alone when and where, the meals will be available beyond that.
But families in the selected cities have the chance to test out the pilot and provide the positive feedback that could lead to the eventual launch of the product nationwide. They can choose from three entree options: 30 chicken nuggets, 12 chicken strips, or four chicken breasts, all grilled or fried. The available sides are the brand-new-to-the-menu, kettle-cooked bacon baked beans and mac and cheese, or old favorites like a salad, a fruit bowl, or the superfood side, which is a "chopped broccolini and kale blend, tossed in a sweet and tangy maple vinaigrette and topped with flavorful dried sour cherries."
Chick-fil-A developed the meals with the input of customers in Dallas, according to People magazine — including parents. Those conversations about the customers' dinner needs showed that parents were looking for a convenient alternative to making dinner at home, as menu development manager Matt Abercrombie explained to Business Insider:
We heard that for a lot of people who are in charge of planning dinner, it's really not that enjoyable. Some parents said "I don't even eat until after my family is fed." That was a really big "aha!" for us.
And many of the families hoped to find ways to connect with one another over dinner in addition to scoring a great-tasting and convenient meal. To that end, each of the family meals — which are reminiscent of Kentucky Fried Chicken's "bucket meals" — comes with five "conversation starters."
Right now, customers in Greensboro, Phoenix, and San Antonio can simply pop into their local Chick-fil-A and order a meal, or snag one in the drive-thru line. Business Insider reported that families will be able to order through the company's app "at a later date." Perhaps not long after that, the rest of the country will be able to join in on the fun, too.