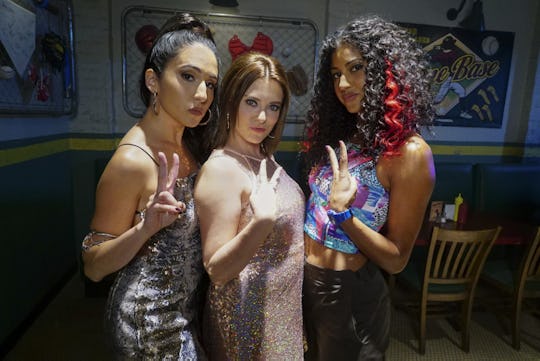 Richard Cartwright/The CW
'Crazy Ex-GF' Season 2 Needs To Be On Netflix ASAP
The CW's Crazy Ex-Girlfriend has been a delightful surprise throughout its first two seasons as it upends expectations and devotes itself to exploring the mental health of its main character, Rebecca Bunch. With its infectious musical numbers and bizarre sense of humor, it's the perfect show to binge watch on Netflix, where Season 1 is available any time you want to watch. But now that Season 2 is coming to a close, how long will it take for it to be available to stream as well? When will Crazy Ex-Girlfriend Season 2 be on Netflix?
There hasn't been an announcement yet, but the wait shouldn't be too long based on how quickly Season 1 made the jump to Netflix as well as the new agreement that's been established between The CW and Netflix back in 2016. Since June of last year, every series from the network is supposed to become available eight days after each perspective season comes to a close. Normally, the last season of a show appears on Netflix shortly before its new season starts, but Crazy Ex-Girlfriend Season 2 will apparently follow no such pattern. However, if you're simply too impatient and can't wait even eight days, then you can watch the five most recent episodes on The CW's official website or purchase the season on iTunes or Amazon. But really, it's probably just easiest to wait a week and see the whole thing in full on Netflix
And if you're in the U.K., then Season 2 has long been available on Netflix, with each episode appearing on U.K. Netflix just a day or so after it aired in the States.
Season 2 opened up the world of Crazy Ex-Girlfriend as the ripple effect of Rebecca's relocation to West Covina began to shake up everyone's lives. The show began to explore the struggles of some of the most important people in Rebecca's life as they tried to work out their own issues. Paula's career goals and marriage took on greater significance, Rebecca forged stronger relationships with Heather and Valencia, and some new characters found themselves transplanted to West Covina, too. Crazy Ex-Girlfriend is a show that always explores the truth beneath the stereotype, and Season 2 followed through on giving the characters even more depth.
Now that the show has been renewed for a Season 3 despite its low ratings (boosts from Netflix and love from critics has helped assure the show's future), those journeys are guaranteed to continue. And now that Season 2's Netflix release is coming your way shortly, fans can be rest assured that you'll definitely be able to catch up on the show before the new episodes premiere in the fall.