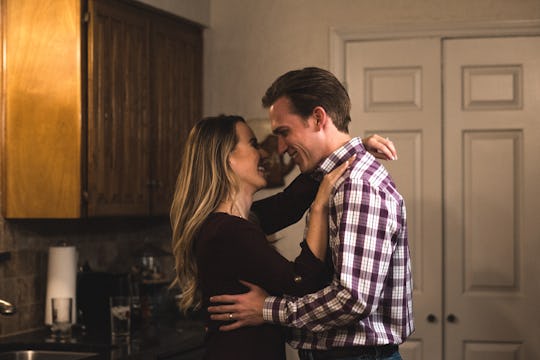 Valerie Chiang/Lifetime
'MAFS' Couple Danielle & Bobby Are Expecting Their First Baby
On Season 7 of Lifetime's reality series, Married at First Sight, viewers were introduced to Danielle Bergman and Bobby Dodd, a couple that got married on the first day they met. The couple — who will be featured on the series' spin off — recently revealed that they are expecting their first child, so fans want to know: when will Danielle and Bobby have their baby?
The couple first announced their pregnancy new to People, but they haven't disclosed a due date for their baby just yet. "2018 has been the most beautiful year for us, not only have we found each other after all this time, but fallen so deeply in love," Bergman and Dodd told People in a statement. "And now, we are beyond blessed to announce that we will be growing our family."
The couple also announced their pregnancy through Danielle's Instagram page, where they shared a photo of themselves kissing, holding up a picture of an ultrasound with the words "love the little things" next to it. "It's hard to express how excited we are to finally share our big news," Danielle wrote in the caption. "The amount of love and support coming our way is absolutely overwhelming and we can't thank you all enough." In a post on the couple's joint Instagram account, they shared a photo of Bobby filming Danielle as she shows off her baby bump. "Who is ready to watch this baby grow starting on Tuesday?" they captioned the picture, referring to their appearance on the upcoming spin off series.
Many people may be skeptical of the arranged marriages on the show, but fans who've watched Danielle and Bobby's relationship develop on Season 7 of Married at First Sight know that they are a really strong couple. During their honeymoon, Bobby told Danielle that he came from a family where stay-at-home moms were the norm, and men provided for the family. He told her he wasn't keen on her working if she ever became a mom, but Danielle wasn't on board with that idea. But after watching the couple handle their conflict with patience and compromise, it was clear that they could make their marriage work.
When talking over dinner one night, Danielle voiced her concern, and Bobby ultimately told her he wanted to do whatever it takes for their marriage to succeed. "Whatever it is that you want to do or your goal, I want to help you meet those goals," he told her on Episode 4. "I want to continue to be married to you and for the marriage to continue to blossom as a whole." In Episode 17, Danielle and Bobby revealed that after months of marriage, they still haven't had a single fight, and were very happy with the decision to stay married. The pair talked about their love for each other, and how excited they are to move onto the next chapter of their lives. The couple seems to be moving full speed ahead, and with a baby on the way, it looks like their new chapter is already here.
Fans can follow Danielle and Bobby's baby journey on Lifetime's Married at First Sight: Happily Ever After?, a reality show that will revisit married couples from previous seasons of Married at First Sight. The series will also follow Chicago-area newlyweds Ashley and Anthony from Season 5 and Shawniece and Jephte from Season 6 which took place in Boston. Shawniece and Jephte will also be sharing their recent pregnancy journey, reported E! News, including the birth of their daughter, Laura, and their dive into parenthood.
Married at First Sight: Happily Ever After? premieres on October 30 at 10 p.m. on Lifetime.