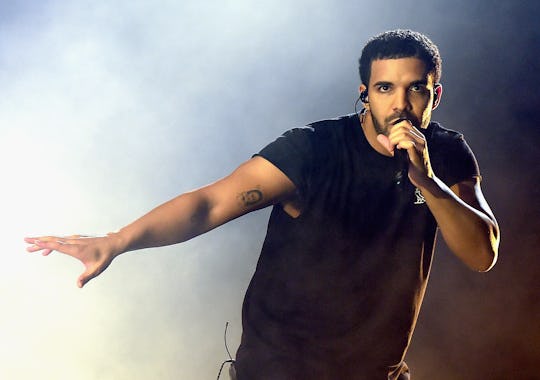 Kevin Winter/Getty Images Entertainment/Getty Images
When Will Drake's 'Views' Be On Spotify? His New Album Hits Apple Music Today
Another day, another new highly-anticipated album released. This time, it's Drake's Views, and I have what could be good or bad news for fans (depending on whether Beyoncé or Kanye West have already sucked you into the TIDAL craze): Views was released Friday exclusively on Apple Music. If you're like me and you have a love-hate subscription to Spotify, however, you're probably wondering: when will Views be on Spotify, if ever? Or are you going to have to shell out for three subscription services as you attempt to keep track of all of your favorite artists' new music?
Fans are in luck. Drake might have a pretty solid relationship with Apple Music — they sponsored his video for "Hotline Bling," and they'll be shelling out for his upcoming tour as well — but luckily for us, the Toronto-based rapper is still a streaming player at heart. Views will be playing exclusively on Apple Music starting April 29, but only for a week, according to BuzzFeed. After that, you'll be able to find Views everywhere you normally find Drake's tunes. Starting May 6, you should be able to find the full album on Spotify and other platforms.
While Drake definitely gives off the vibe that he cares about his fans (and all of their respective streaming choices), the decision to make Views available on multiple platforms makes a good deal of financial sense, too. His album If You're Reading This It's Too Late set streaming records on Spotify when it was released, which would make returning to the popular streaming giant an appealing prospect.
So, what can you expect once you tune into Views on Spotify? "I don't want you to get it right away," Drake told Beats 1 recently, according to Billboard. "Great music takes a little work. It takes elevating your listening level." He also said that the album alludes to Toronto's changing seasons, and the earlier version of the album's title — Views From the 6 — was a hat tip to the Canadian city.
The album is based around the change of the seasons in our city. This album is a blatant display of being proud of where I'm from.
Reviews of the album so far have been... well, rather moderate for Drake, to be honest. "Views earns its 19-track runtime by evolving as it goes, its leaves turning different shades ... The album may be his most sonically vibrant," wrote SPIN's Andrew Unterberger. However, "if this ends up as the Drake album people find the most agreeable, it'll also be the one few fans consider their favorite."
Still, it's Drake, and it's a new album with 20 songs on it (and yes, "Hotline Bling" is definitely on there). So if you're a fan, the more likely question is when you will listen to it, rather than if you will. Can you wait another week until the album hits Spotify, or will you be whipping out your credit card for Apple?