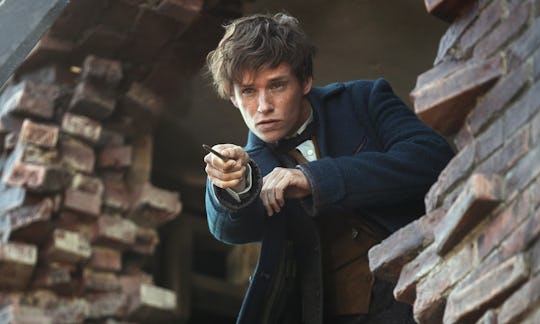 Warner Brothers
When Will 'Fantastic Beasts And Where To Find Them 2' Be Released? Fans Will Have To Wait
Harry Potter fans are itching to watch Fantastic Beasts and Where To Find Them this week. The film goes back in time to follow writer Newt Scamander, played by Eddie Redmayne, in NYC's underground world of witches and wizards. Scamander ties into the Potterverse by writing a book that Harry, Hermione, and Ron eventually study at Hogwarts. Albus Dumbledore also appears in both Scamander and Potter's worlds. Even though it is only the first film, we're already anticipating the next film — naturally. So, when is Fantastic Beasts And Where To Find Them 2 coming out? And more importantly, when do we see Dumbledore again?
The magical sequel will hit theaters two years from around this time, slated for Nov. 16, 2018. I know, I know, I wish I could travel through time, too. But this was at least we have a lot to look forward to in the upcoming Fantastic Beasts movies. For one, director David Yates confirmed to Screen Rant that Scamander will return. He also teased that "Dumbledore and Scamander will...have a handful of scenes together in the [second] film."
The Fantastic Beasts director stated "In the second movie Dumbledore comes back. He's got a couple of good scenes with Newt… We're discussing who would play Dumbledore, any suggestions would be good. [Laughs]"
We've already seen Albus Dumbledore portrayed by Richard Harris and Michael Gambon. Only time will tell who will rock the scraggly beard next. But at least Redmayne will be a staple character. When asked to describe his character, he was painted a detailed picture.
"He's a man with a passion, and his passion is animals. His mother bred hippogriffs, and it's the world he's most comfortable in. He's not particularly comfortable with human relationships. He's comfortable in his own skin, but he disconnects with people. People seem to misunderstand him, and he doesn't know why, but he's also not particularly interested in why."
And when Entertainment Weekly asked the Oscar-winning actor about Dumbledore standing up for Scamander, Redmayne responded with playful fear.
"I would love to give you backstory, but that's something in which the Warner Bros. troops would shoot me for if I said anything. I can't talk about that, I'm afraid."
OK, Redmayne, we'll just have to wait and see. This string of movies is "the stuff kids' dreams are made of." There will be five films to the franchise, so start wrist-flicking exercises for spells today, and get your head in the (quidditch) game.