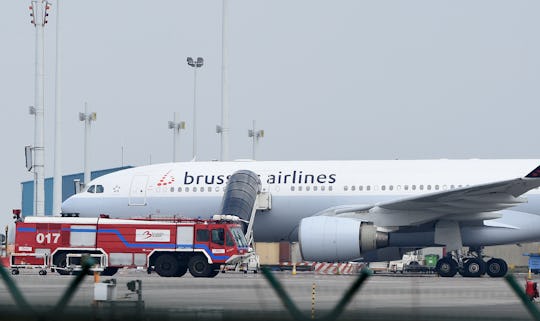 PATRIK STOLLARZ/AFP/Getty Images
When Will Flights To Brussels Resume? Zaventem Airport Remains Closed
Two explosions occurred at Brussels' Zaventem airport on Tuesday morning, thought to be the work of suicide bombers with ties to ISIS. A third explosion occurred at the nearby Maelbeek metro station. More than 30 victims were killed by the blasts, with hundreds more injured. In the wake of the attacks, Zaventem airport has been closed, and all flights in and out of the airport have been canceled, displacing tens of thousands of passengers, according to CNN. So when will flights to Brussels resume? It's tough to say, as airport officials are currently unable to tell just how bad the damage might be.
A statement on the airport's website explained that "[b]ecause the forensic investigation is still underway, we currently have no access to the building. It is therefore impossible for us to assess the damage. As a result the airport will remain closed to air traffic tomorrow. In the course of Wednesday we will assess when the operations can be resumed." While the airport will be closed at least through Wednesday — when airport personnel will presumably be granted access to the building — it's certainly possible that the damage will prove to be more than just cosmetic, so the airport could be closed for quite some time, if the building's safety is a concern.
There is good news for those who need to get to Brussels, though; Brussels South Charleroi Airport is still open, and flights appear to be running more or less on time (well, 10 to 15 minutes behind, but for air travel, that's not bad at all). Charleroi Airport is less than an hour's drive from Zaventem. Also less than an hour away, and running on schedule, is Antwerp International Airport. Liège Airport is about an hour from Brussels, and Ostend-Bruges International Airport is a bit longer of a haul – about an hour and a half by car. Of course, security is heightened because of the attacks, so travelers are advised to get to the airport earlier than usual.
Most scheduled flights to Zaventem have been cancelled at this time, so passengers are encouraged to contact their airline in order to secure a refund or to book new flights. While those who planned on flying in to Zaventem will no doubt be inconvenienced for at least the next couple of days, Brussels, and Belgium as a whole, are far from inaccessible. As for Zaventem itself, flights could potentially resume as soon as Thursday if structural damage to the airport is minimal, but until Wednesday, there's no way to know for sure.