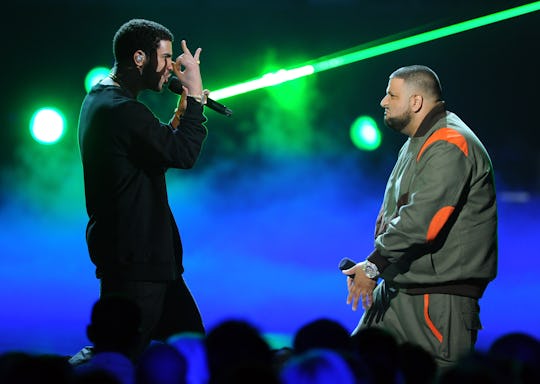 Kevin Winter/Getty Images Entertainment/Getty Images
When Will 'For Free' Be On Spotify? Drake and DJ Khaled's New Song Is A Summer Hit
Fans of Drake and DJ Khaled have a nice, summery reason to get excited, and it's called "For Free." The newest collaboration between the two is the perfect summer anthem, so fans are wondering when they can actually get it for free — a.k.a., on their favorite streaming service. When will "For Free" be on Spotify, though? If you're with the popular streaming service, it might be a while, since both artists have previous ties with Apple Music.
For example, when Drake released Views at the end of April, it was initially available only on Apple Music, although it was only a week before it was released to other streaming services. DJ Khaled has his own ties to Apple Music as well, since he hosts a weekly show on Apple Music's Beats 1, We the Best. Oh, and another small hint? The single is already available on iTunes, and DJ Khaled first dropped it on Apple Music's Beats 1 on Friday.
However, fans on Spotify can hold out some hope, as both DJ Khaled and Drake have released albums on the streaming giant before. If and when that will happen, though, is up in the air. DJ Khaled could choose to wait until his entire Master Key album has enjoyed some Apple Music exclusive airtime — and Master Key doesn't even have a release date yet — or he could release it tomorrow. He hasn't given any indication, but I figure it's a safe assumption that the two Apple Music-related musicians will give their streaming service a head start.
The two artists have worked together in the past, and this is their third collaboration after "I'm on One" and "No New Friends." This latest track seems to document Drake's relationship with his one-night-stands, and he speculates about how good he is in bed. To be honest, the lyrics make Drake sound a little full of himself, but for hardcore fans, this will likely be a big summer hit.
Luckily, if you don't feel like waiting around for "For Free" to hit Spotify, you can always find the track online on Audio Jams for free, where you can play and replay it until it hits your favorite streaming service. Once DJ Khaled releases the entire album of Master Key, news will likely be more forthcoming as to the availability of "For Free" (as well as the rest of the album) on all streaming services, so stay tuned.