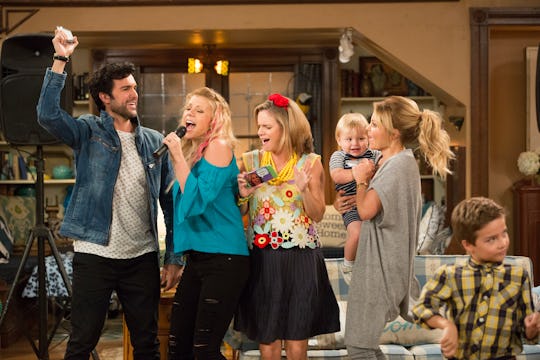 Michael Yarish/Netflix
When Will 'Fuller House' Season 3 Premiere? It Hasn't Been Renewed Yet
The second season of Fuller House is almost here and fans are already wondering when Fuller House Season 3 will premiere. The family comedy that gives Full House fans full-on nostalgia while also bringing in new fans, follows the lives of D.J., Stephanie, and Kimmy from the original series. All grown up now, D.J. has three sons while Kimmy has a daughter, Ramona. The show also, of course, includes appearances from various members of the original cast, including the girls' uncles Joey and Jesse, their dad, Danny, their aunt, Rebecca, and so many others. Fans obviously want to see the show continue — but will it?
As of right now the show hasn't been renewed for a third season, however, show creator Jeff Franklin seems confident that there will be another season. In fact, Franklin recently bought the original Full House home and even repainted the front door red so that it looks just like it did when the original show aired. Although there's still construction that he'd like done to the house he definitely wants to film the show there in the future. "We would take advantage of the fact that I now own the house, and we could go up there and shoot some new footage and maybe bring the cast up and shoot with them up there," Franklin recently told The Hollywood Reporter. So he seems to expect the series to go on.
Franklin plans to have the construction done on the house by Sept. 22, 2017, Full House's 30th anniversary, and hopefully have the cast there for a reunion. "I hope to bring the cast up to the house and have a big slumber party here so people can drive by and actually see the Tanner family living there for one whole day," Franklin stated to the outlet. "That would be pretty fun."
If the show does get a third season, it would also be great if one or both of the Olsen twins returned so fans could see Michelle in the present-day as well. When asked about the Olsen twins by Variety, Franklin said "the door is still open" for them to return if they want to. So we can only hope that if there is another season, they'll decide to come back even if it's just for one episode.
For now, though, fans can get ready to watch the second season of Fuller House, which will be available for streaming on Netflix beginning on Dec. 9.