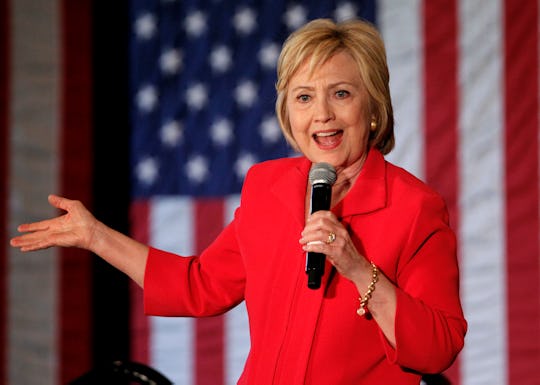 John Sommers II/Getty Images News/Getty Images
When Will Hillary Clinton Choose Her Vice President? Some Say It's Her Next Logical Step
This has been a rollercoaster-ride of an election season, and it's just getting started. Just last week, GOP presidential candidate Donald Trump announced that he was considering running mates, so it shouldn't be too much longer before the democratic candidates begin winnowing the field. While the race between candidates Vermont Sen. Bernie Sanders and former Secretary of State Hillary Clinton is still ongoing, Clinton's delegate count is nearly definitive. So when will Clinton choose her vice president? It's one of the most important decisions of a campaign.
While choosing a vice president is hardly a "make or break" situation, it can broaden a candidate's appeal and show voters which issues a candidate really cares about. Like Trump, Clinton is already beginning to consider who her running mate may be, according to NPR. But, also like Trump, she has made no indication of when she might announce it. There are some clues, however. The first is history.
Historically, candidates announce their running mates in July or August of an election year. This year, the Democratic National Convention is July 25 to 28. Clinton may take that opportunity to announce her vice president with fanfare, pizzaz, and a whole lot of press. She may also make the big announcement just before the DNC to drum up excitement and new supporters leading up to the big event. There are precedents for both, but, either way, it's likely there are still a couple more months of speculation ahead.
The speculation about who might be on her ticket is already heating up. According to the Washington Post, John Podesta, Clinton's campaign chairman, said there is going to be at least one woman vetted for the position. The Post's guess was that it would be Minnesota Rep. Amy Klobuchar because she's a popular up-and-comer in the party. NPR guessed that Clinton might pick liberal heartthrob and Massachusetts Sen. Elizabeth Warren. The other names circling the Internet include Ohio Sen. Sherrod Brown, Virginia Sen. Time Kaine, Labor Secretary Tom Perez, and Secretary for the Department of Housing and Urban Development (and Texan) Julian Castro.
Each of these possible vice presidents bring a different advantage to the Clinton campaign: some are from swing states, some are popular among young voters, some are popular among Hispanic voters, some are long-time politicians, and some are untainted newcomers. Over the next few months, her team will no doubt be deep into analyses of their weaknesses. Finding the weak spots in their appeal will help Clinton decide on who she needs to bring in so that the duo is full, unbeatable, and well-rounded in the face of Trump.