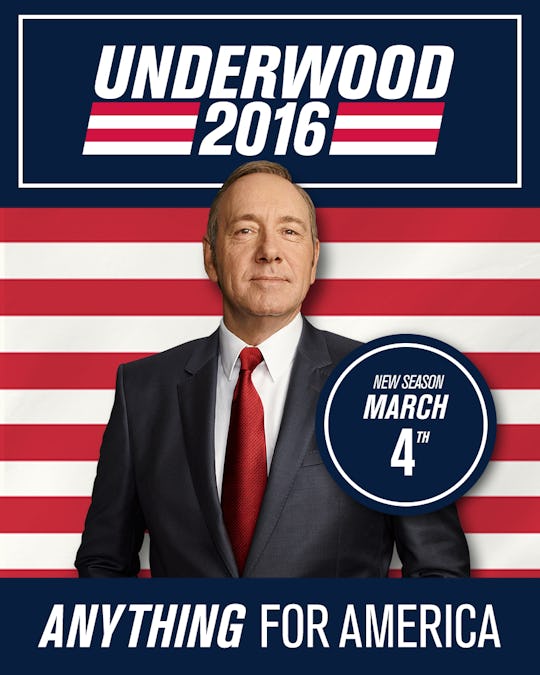 Netflix
When Will 'House Of Cards' Season 5 Premiere? Prepare To Wait For Underwood 2016
So, you woke up the moment the clock struck that magical hour to watch Season 4 of House of Cards. And then you watched, and watched, and watched until you could no longer watch any more. And then you finished Season 4. If you're anything like me, you just stared at your reflection in the black screen facing you thinking "OK, so now what?" Well, now we just have to wait for the premiere of House of Cards Season 5, patiently, like Claire Underwood waiting for that Vice President spot.
First, congratulations. You made it to the end of Season 4 — or you're just preparing yourself for when the end comes. But now it's time to face the facts — we have a long time to wait until Season 5 premieres. Netflix just announced the renewal of Season 5, which is a great first step, but they have yet to release the date of the next season. And for good reason, because it's probably going to be a long time from now.
So when will Season 5 of House of Cards premiere on Netflix? (Netflix had no comment when asked about a release date.) Well, until Netflix releases the date, we can speculate that it will be sometime around March 2017. Yes, 2017. With a "7" at the end. Season after season, the release dates have been moved back. The first season was released on Feb. 1, 2013. Season 2 had a romantic release date on Feb. 14, 2014. Season 3 was released on Feb. 27, 2014. And as we all probably know, March 4, 2016 was the magic date for the Season 4 release.
The bright side of a potential 2017 release date for Season 5? You can catch up on sleep. Oh, what's that?
In the meantime, I'm going to look into creating a support group — that I wish I was sarcastically suggesting — called, "I just watched House of Cards in two days and now I have to wait an entire year to see the next season." Membership stands on being able to explain if Claire broke the fourth wall at the end of Season 4 or not.