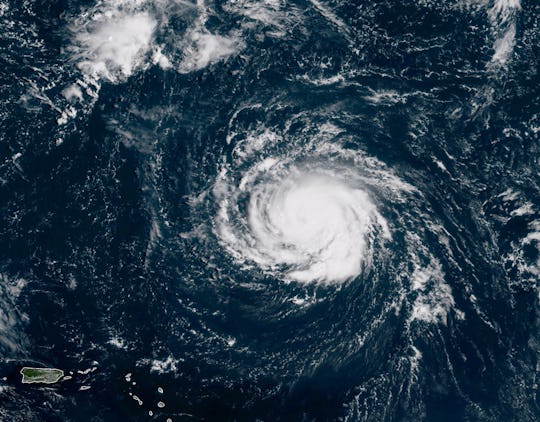 Handout/Getty Images News/Getty Images
Here's When Hurricane Florence Will Hit, According To Experts
Thanks to climate change, the late summer and early fall are no longer just a time to get in one last cookout before packing away the patio furniture. Instead, this time of year is when people across the country stock up on batteries, bottled water, and canned goods as one natural disaster seems to line up after another. But keep calm, because the latest predictions on when Hurricane Florence will hit the United States show that you've still got plenty of time to start taping up your windows and purchasing supplies.
The bad news, however, is that Hurricane Florence is getting stronger. The National Weather Service upgraded Florence twice on Monday, first to a Category 3 storm in the late morning, and then to Category 4 less than two hours later. According to CNN, Florence has maximum sustained winds of 130 mph, and those winds are expected to get even faster. The hurricane is currently moving toward North and South Carolina, and is predicted to make landfall either late Thursday night or early Friday morning. This could be the strongest storm to hit the region since experts began tracking them in the mid-1800s; Hurricane Hazel in 1954, and Hugo in 1989, are the only other Category 4 storms ever recorded in the Carolinas.
Hurricane Florence will likely bring ocean swells up to 15 feet high and a possible 20 inches of rain to the area. Virginia, North Carolina, and South Carolina have all declared states of emergency in anticipation of the damages the storm will cause, and North Carolina Gov. Roy Cooper and South Carolina Gov. Henry McMaster have both requested a federal disaster declaration, CNN reported, which would grant their state and local agencies eligibility for Federal Emergency Management Agency relief funds. A mandatory evacuation order was issued for North Carolina's Hatteras Island at noon Monday, and all other areas of Dare County must evacuate beginning at 7:00 a.m. on Tuesday.
Earlier computer models suggested that Florence might turn north over the Atlantic before petering out, but most experts now agree that's unlikely, according to the Washington Post. It's even possible that the storm could eventually reach Category 5 strength, and the National Hurricane Center's current forecast suggests that it will reach peak winds of 150 mph winds between Tuesday and Wednesday, which is just 7 mph below the threshold for Category 5. Once it does make landfall, a building high-pressure zone to the north may cause it to slow down or stall rather than continuing to move inland. We'll know more in the coming days.
If you're well outside of the Carolinas, you still may need to prepare for some rough weather later in the week. On Monday morning, the National Hurricane Center reported that hurricane-force winds extended up to 30 miles from the center of Hurricane Florence, and tropical-storm-force winds extended outward up to 140 miles. Washington, D.C., Maryland, and Delaware will likely see serious effects, and areas as far north as New England can expect heavy rains over the weekend and into next week. The East Coast has already had more than its share of rainfall lately, and flood watches, warnings, and statements are in effect in several states (see the National Weather Service's complete list).
If you're a recent transplant from a milder climate, here are some hurricane basics: first of all, if you're being told to evacuate do it and do it immediately. These decisions aren't made lightly. Otherwise, you'll want to assemble an emergency kit with at least three days worth of supplies for each person in your family. That includes food and water, of course, but don't forget flashlights, extra batteries, first aid supplies, and any prescription medications you may need. Make sure your phones are charged (and grab some portable chargers, too), but the Department of Homeland Security warns that overloaded phone lines may mean that texting or social media is the best way to let people know you're OK. Don't forget plenty of screen-free entertainment for the kids, and with any luck, everything will be back to normal in just a few days.