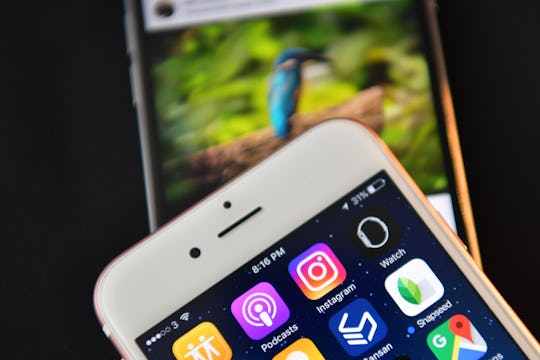 Carl Court/Getty Images News/Getty Images
Here's When You Can Start Using Instagram's Newest Video Feature, IGTV
Every day it seems like there's been another new app or feature on your favorite social media platforms. From different algorithms to new layouts and functions, the internet — social media in particular — is an interesting place. And now that one of the most prominent social media platforms has announced a bit of an upgrade, you might be wondering when exactly IGTV, Instagram's new long-form video app, will be available for everyone to use. From the sounds of it, the new feature will be coming to a phone near you sooner rather than later.
At an event in San Francisco on Wednesday morning, Instagram CEO Kevin Systrom introduced the new platform, known as IGTV (Instagram TV), and went into all the details of the new app. Yes, IGTV will be its own app, according to The Verge, and it will be available on both Android and iOS devices within the next day, as The Verge reported. That means you could get the app as early as Thursday, June 21, if you so desire. Additionally, an upgrade to the original Instagram app will allow users to access the IGTV app from a new button on Instagram's home page, according to Tech Crunch.
Basically, everyone will be able to use the newly developed app, which will be a strictly video-based program, according to The Verge that allows users to upload videos up to one hour long, this week.
Instagram also announced the launch, fittingly, on Instagram, captioning the video with the announcement. According to the caption, IGTV is "a new app for watching long-form, vertical video from your favorite Instagram creators." IGTV will essentially allow users to see more videos from their favorite Instagram accounts, but only if they want to. That means if you're rocking your baby to sleep and don't need those annoying, ridiculously loud Instagram videos sounding off as your scrolling the app, you won't have to. Well, you'll have to deal with less of it, anyway, as more creators shift to uploading their videos to the IGTV platform.
It's unclear whether users will have to take to IGTV for every longer video they upload, or if the original Instagram app will still allow video uploads. As it stands, Instagram videos currently cannot be longer than one minute. So for those users who want to get a bit more creative with their video skills, IGTV could be the perfect solution. While IGTV certainly may sound a lot like YouTube, The Verge reported that Systrom told event attendees that there won't be any ads on the app, at first, noting that having ads would be "a reasonable place to end up."
So as time goes on, you might just see Instagram and IGTV looking a lot more like YouTube, although the presentation is probably a little more trendy. As Instagram itself explained in its announcement of the app, "videos are full screen and vertical." Additionally, as the name would suggest, IGTV is modeled after regular television. So when you open the app, videos automatically start playing, just as when you turn on the TV, a show starts playing.
And Instagram will also allow you to find the people you want to follow on IGTV. "You can swipe up to discover more — switch between 'For You,' 'Following,' 'Popular' and 'Continue Watching.' You can also like, comment and send videos to friends in Direct," the company wrote in its announcement.
So really, Instagram isn't just attempting to take over web-based videos, but it wants to make the app your number one choice for watching anything. It's unclear whether IGTV will end up having creative options to watch like original sitcoms or documentaries, or if personal accounts could also start to take advantage of the platform. But with 1 billion global users, Instagram definitely has what it takes to change up the game.