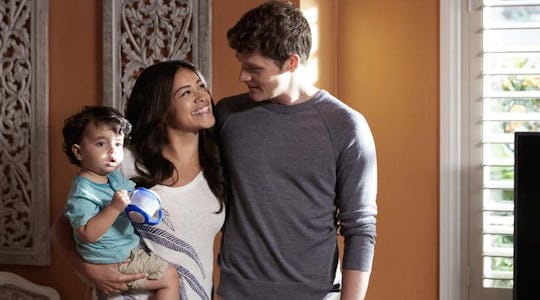 The CW
When Will 'Jane The Virgin' Return? Season 3 Has A Lot Of Questions To Answer
Although the holiday season is great, it's always sad to say goodbye to our favorite shows for the winter. Thankfully the remainder of the third season of Jane the Virgin isn't too far away, but I'll miss watching the Villanuevas and all their drama every Monday that its off the air. So when will Jane the Virgin Season 3 return? Jane and Co. will be back on Jan. 23 and there's going to be a lot going on in the second half of the season.
The first half of Season 3 ended on a bit of a cliffhanger and there's a lot of questions fans want to see answered in the second half of the season. The most important question is finding out who Rafael's real parents are. In the fall finale, it was revealed that Rafael isn't a Solano after all. It turns out that he was actually adopted from Italy and it's unclear whether or not his mother ever told his father the truth or if his father believed Rafael was truly his son. What's more important though is what this means for Rafael. Since he's adopted, does that mean he doesn't actually have a claim to the Solano fortune? And what would that mean for his kids? Also, who are his real parents and are they just as crazy as the Solano family? So many questions!
There's also the question of what exactly Jane's cousin, Catalina, is up to. Jane accused her of being up to something when she found rolls of cash and jewels in Catalina's bag, but after Catalina explained it all away, Jane felt guilty for accusing her in the first place. However, towards the end of the episode fans then saw Catalina open her door to a mysterious French man who she seemed to know well. What's that all about?
Meanwhile, Michael just found out he's still not cleared to return to the force and can only do desk duty, which according to the promo for the next episode, leads him to try his hand at stand up comedy. (I personally can't 'wait to see that play out.) Xo also revealed to Jane that she'd known all along that Bruce was married during their previous affair and that she's going to try to seriously pursue a relationship with him now despite Jane's reservations. Lastly, Rogelio plans on having a baby with his matchmaker, which I can't imagine will end well, who knows!
There's definitely a lot to look forward to in the second half of the third season of Jane the Virgin and I can't wait to see what happens next. Jan. 23 can't get here soon enough.