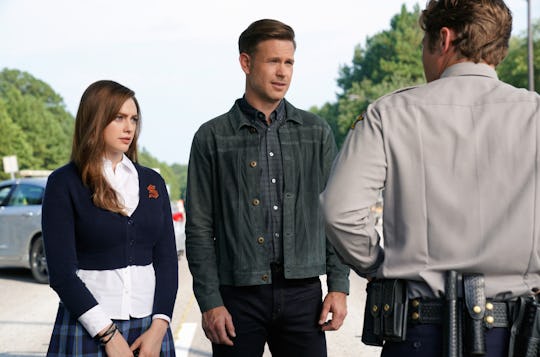 Quantrell Colbert/The CW
A Familiar Face Is Headed To 'Legacies' & Fans Are *So* Excited
The Vampire Diaries is truly the blood-sucking gift that keeps on giving. Just when you thought the TVD universe had closed for good after The Originals aired its final episode, enter Legacies. If you're as excited to jump back into this world as I am, hold on to your blood bags. Romper spoke to the cast of Legacies at New York Comic Con and Matt Davis spilled a little tea on which episodes to look out for and when Jeremy will appear on Legacies. Let's just say, you're not going to want to skip anything.
It was reported months ago that Jeremy Gilbert, Elena's death-prone yet hunky little brother, would be appearing on Legacies. The spinoff takes place in the "Salvatore Boarding School" started by Alaric and Caroline to help supernatural kids and teens learn how to deal with their own powers (without, you know, accidentally killing anyone). As for what Jeremy will be doing at the school, Davis and co-star Danielle Rose Russell who plays Hope Mikaelson, were maddeningly tight-lipped. Regarding what Jeremy will be doing on the show, what his romantic status is, what he does for work (did he ever graduate high school?) neither actor said much. "Jeremy comes around," they explain.
As to when the world's favorite vampire hunter would be showing up, Davis let spill a little more information. "When Jeremy appears it'll be in Episode 3 or 4 and Episode 3 and 4 are some of my favorite episodes so far, and you'll see that interaction a little bit." That means in just three (or four) weeks, Little Gilbert will be making his triumphant return to Mystic Falls. I know that I, personally have so many questions about what he's been doing all this time. But while Davis and Russell couldn't give any specifics about what happens, they did assure everyone that audiences won't be disappointed.
"That's the hard thing about these things," Davis says. "There's so many cool things about the show that you wanna talk about. But you just can't spoil it unfortunately." Of course, while I want to know what's happening with Jeremy, I have to admit it will be more fun to watch it as it all unfolds. And knowing the Vampire Diaries universe, there will be plenty of drama in between. Mystic Falls rivals Sunnydale from Buffy the Vampire Slayer in terms of paranormal death rate.
But Jeremy isn't the only Vampire Diaries character making a comeback in this universe. It has already been revealed that Matt Donovan will be on the show — as Sheriff of Mystic Falls, naturally. But what about some of the other beloved characters? Notably, when will Caroline show up? After all, she is the mother of Alaric's daughters Josie and Lizzy, who star in the show alongside Hope Mikaelson. She is also supposed to be headmistress of the school — as well as a fan-favorite character. In an interview with Entertainment Weekly, show-creator Julie Plec said that Caroline's absence will be a bit of a mystery (at least at first) — with the girls believing she's off on recruiting missions.
But something tells me we could be seeing familiar Vampire Diaries characters at any time. Yeah, I'm a little excited.