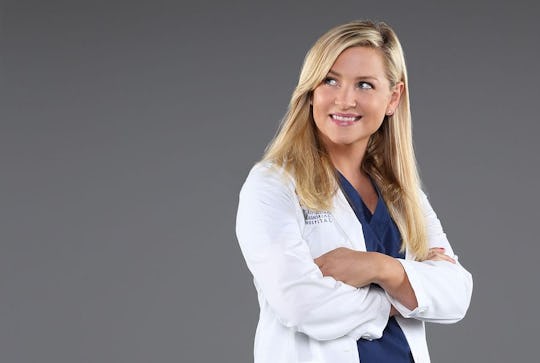 Bob D'Amico/ABC
Many 'Grey's Anatomy' Fans Are Devastated About Jessica Capshaw's Upcoming Departure
When it comes to Grey's Anatomy characters, they are always coming and going, but that doesn't mean fans are anymore prepared for when they leave. In fact, viewers were outright angry and upset when it was announced that both Sarah Drew, who plays April Kepner, and Jessica Capshaw, who plays Arizona Robbins, are exiting the series. So, when will Jessica Capshaw leave Grey's Anatomy? Unfortunately, her departure will come much sooner than any of us would like.
On March 8, it was announced that the Grey's producers chose not to renew Drew and Capshaw's contracts, and according to Deadline, the reasoning was based "strictly on the show's creative direction." Because their contracts weren't renewed, Drew and Capshaw will leave the show after Season 14, presumably making their final episode the season finale. However, it's anyone's guess how April and Arizona will exit the show, but there are of course a number of theories currently circulating out there.
Right now, Arizona is doing well in her life. She's got her daughter, Sofia, back, she's currently working on a research project to hopefully figure out why so many women in the U.S. are dying during labor, and she has a hot romantic/research partner in Carina. In other words, Arizona is living her best life right now, so how will her story end? Hopefully, on a happy note.
While many characters have been killed off the show, others have left still alive like Cristina Yang and Callie Torres, so it would be great if the same happened for Arizona as well. Perhaps she'll move to New York so Sofia can be closer to Callie or maybe she and Carina will move to Italy together, although I can't imagine Callie would be OK with Sofia living in an entirely different country. But, you never know.
No matter why Arizona leaves Grey Sloan Memorial Hospital, it seems unlikely that the reason will be enough to satisfy fans. Although characters exiting the show is a regular occurrence, fans are particularly upset about this one for a number of reasons. First, although the producers just chose not to renew Capshaw and Drew's contracts, many fans feel like this is very much a firing of the two actresses. Unlike the many actors who've left before them like Sandra Oh, Patrick Dempsey, Jerrika Hinton, and a number of others, this certainly wasn't Capshaw or Drew's choice.
Due to this, some fans have vowed to boycott Grey's in protest and there's even a petition to get the two actresses rehired. The petition has almost reached its goal of 35,000 signatures, though it's very unlikely this will have any impact on changing the producers' minds. Besides, Drew has already been cast in another series, so it's clear these ladies are moving on. Right now, Capshaw doesn't appear to have any other projects lined up, but it'll probably only be a matter of time.
For now, Capshaw is enjoying her final days on the Grey's set and after the news broke she took to Twitter to thank all the fans that have followed her on the series for the past 10 years and celebrate the character that is Arizona Robbins and the LGBTQ rep she brought to screen.
"For the past 10 years I have had the rare privilege of not only playing Arizona Robbins but also being madly in love with playing her," she wrote. "Arizona Robbins is kind, intelligent, funny, insightful, bold, playful, fierce and really good at her job. She was one of the first members of the LGBTQ community to be represented in a series regular role on network television. Her impact on the world is permanent and forever. Forever."
You can follow Arizona's story all the way to the end by watching Grey's Anatomy on Thursdays at 8 p.m. EST on ABC.
Check out Romper's new video series, Romper's Doula Diaries:
Watch full episodes of Romper's Doula Diaries on Facebook Watch.