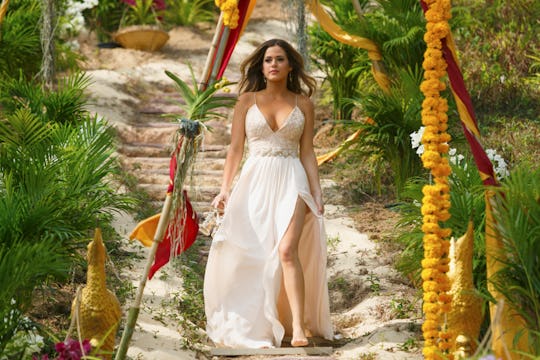 Matt Klitscher/ABC
When Will JoJo & Jordan Get Married? It Looks Like Pretty Soon
Monday night's Bachelorette finale brought tears, yet another damn Chad appearance, and ultimately the reason why we were all watching (which was, of course, the right reasons): JoJo picked her bachelor. JoJo chose TK over TK, and now they're engaged! Wedding bells are officially in the air, and now they'll go from reality TV couple to real-life couple (maybe). So when will JoJo and TK from The Bachelorette get married?
There are some couples from The Bachelor and The Bachelorette that actually tied the knot (or at least stayed together) after getting engaged on the show – though they are few and far between. Sean and Catherine from The Bachelor's seventeenth season is one; they were married in 2014 after getting engaged in 2012. Ben and Lauren from the latest season are another example (which is definetely part of JoJo's heartbreak narrative), though they are still not married after getting engaged last November. They were actually in the audience of the Bachelorette after show, and gave the newly engaged couple some advice.
As for JoJo and Jordan? On the after show, they revealed they're looking to get married next year. The two are wasting no time getting their lives started together – so much so that Jordan was moving to Dallas to be with Jordan as soon as the after show ended. He brought his bags to the show behind the scenes, and they're jetting off as soon as Chris Harrison lets them go.
"We're throwing around some dates," Jordan said of the wedding. As of now, JoJo and Jordan plan to marry in 2017. "We're ready," JoJo said. She said they're going to move in together and "start thinking about it."
Will they actually go through with it? Only time will tell. As of now both JoJo and Jordan appear to be optimistic and genuinly in love. Of course, there have been more examples where the show's union didn't work out as opposed to when it did, but that doesn't mean we have to be jaded. On After the Rose, it seems that Jordan was indeed "here for the right reasons," so perhaps he and JoJo will make it. And if not, they might end up on Bachelor in Paradise, where we'll gladly keep watching.