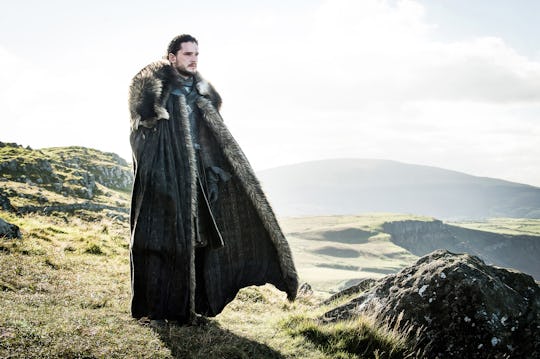 Helen Sloan/HBO
These 'Game Of Thrones' Characters Have Been Apart For Far Too Long
The latest episode of Game of Thrones blessed us with another Stark reunion, though it was a little disappointing compared to the previous one. Bran finally made it home to Winterfell where his sister was waiting, but he wasn't overjoyed to see Sansa. Still, whenever two Starks reunite, it's a cause for celebration, and there may be more reunions to come this season. So when will Jon Snow and Arya reunite on Game of Thrones?
It has literally been years since Jon and Arya have seen each other. The last time they were together was back in Season 1, right before Jon left to join the Night's Watch. Since then, they've both been on some wild adventures. Jon became Commander of the Night's Watch, was then stabbed to death, came back to life, and now he's King of the North. At the same time, Arya racked up a steep list of enemies and now that she's successfully become a face-changing assassin, she's going to work to kill all those who are on her list.
Though she was on her way to King's Landing, to put an end to Cersei's very murderous reign, a run in with her old friend Hot Pie had Arya changing course.
Hot Pie revealed the great news that the Boltons were dead and the Starks were back in at Winterfell. Knowing that her brother was now King of the North, Arya realized it was time to go home, and based on how quickly this season is moving, it wouldn't be surprising if she arrived at Winterfell by the next episode.
Though Arya may be home soon, it's hard to say when Jon will be back. He's currently down south with Daenerys, mining some dragonglass. Plus, based on the way Daenerys is currently struggling in this war, it wouldn't be surprising if Jon got roped into helping her cause while there. That could definitely slow down his return home, but Jon will definitely be returning North at some point. Hopefully.
In the trailer for Season 7, Jon can be seen running in the snow alongside Tormund. Though it's unclear when this will happen, it's definitely happening this season and it seems difficult to believe that Jon will make it back north without crossing paths with his sister at some point.
With only four episodes left of this season, the Jon and Arya reunion will undoubtedly be happening fairly soon. It's only a matter of time.