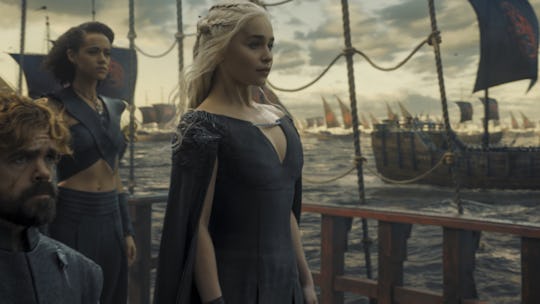 Courtesy of HBO
Jon Snow & Daenerys May Finally Come Face-To-Face On 'GoT'
Ever since the theories about Jon Snow's true parentage first began swirling around, the big question that's been on everyone's mind became: when will Jon Snow and Daenerys meet on Game of Thrones? The theory predicted that Jon is actually the son of Lyanna Stark (Ned's sister) and Rhaegar Targaryen (Daenerys' brother), thereby making him half-Targaryen with a real claim to the Iron Throne. This was pretty much proven in the Season 6 finale when fans saw, via a flashback, Lyanna giving birth to a baby boy — the same person we've now come to know as Jon Snow.
While the episode itself didn't confirm the identity of the baby (though it very strongly alluded to it), HBO confirmed Jon's parentage afterward. But since there are two short seasons of Game of Thrones remaining, a meeting between Jon and Daenerys is inevitable. It's honestly something fans have been waiting for since the book readers figured out the big dramatic truth about Jon's parents and his relation to Daenerys. (She's his aunt!)
One of the main reasons a lot of fans hope to see the two meet is because they could possibly end up taking over the Iron Throne and ruling together. Not necessarily by getting married (though in the world of GoT, it's not totally out of the question), but perhaps even just through a family alliance of sorts. And you just know it'd be an awesome team-up. After watching both Daenerys and Jon rise to their stations these past six seasons without ever even meeting each other, it's a long time coming. And my money's on it happening early on in Season 7.
Showrunner D.B. Weiss hinted to Entertainment Weekly that Daenerys' return to her birthplace of Dragonstone is what marks the beginning of whatever she plans to do in Westeros. "Once she gets on those ships and crosses West, that's when the clock on the end game starts ticking," Weiss said. "The question has been: When is she going to get back across the Narrow Sea? When is she going to take back her homeland? It's been a long time for her, and it's been something that's such an imperative for people watching. You know she's not going to go there for a beach vacation."
The last fans saw of Daenerys, she was sailing across the sea with not only the Unsullied at her command, but also the Iron Fleet thanks to Theon and Yara. This is also the closest we've seen Daenerys to Westeros since the very beginning of the series, so everything is definitely coming to a head and soon. I don't know how eager Jon is going to be to go to King's Landing, but if the great war comes, he might have to travel south in an effort to wrangle up more armies to fight them. Which brings him even closer to where Daenerys is.
In a recent interview with S/ Magazine, Emilia Clarke, who plays Daenerys revealed that it's been nice to finally work with actors she's known since Season 1 but had no scenes with up until now. She didn't give any details further than that, but that feels like a positive sign. When it comes down to it, there's no way the writers of Game of Thrones would finally confirm Jon's identity just as Daenerys is making her way across the Narrow Sea if they were never going to have the two very important characters meet.
Since Weiss said that once she reaches land "the clock on the end game starts ticking," you have to assume that Jon and Daenerys meeting on Game of Thrones will happen during Season 7 rather than the final season. And if not, then fans are probably in agreement that they'll riot.