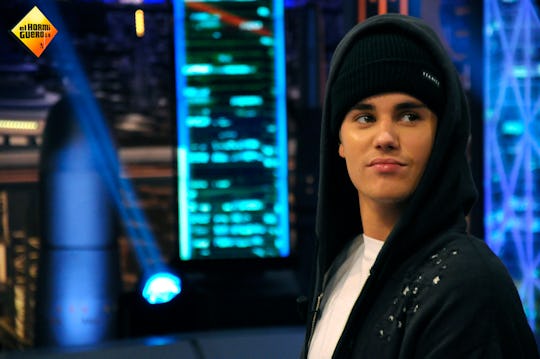 El Hormiguero/Flickr
When Will Justin Bieber's Album Come Out? This Is One Friday The 13th Everyone's Looking Forward To
Beliebers have been waiting a long time for tomorrow to arrive, and at long last, it's finally (almost) here: At midnight, Nov. 13, Justin Bieber's fourth album, Purpose, drops. And if you've checked out Twitter lately, fans are already more than psyched.
Purpose is being billed as a "comeback" album, mainly because Bieber already has two hits on it (the singles "What Do You Mean" and "Sorry") and because it marks the beginning of a new Bieber era. He's an older, calmer, more mature Beiber now — a true artist, who knows that peeing in buckets inside a restaurant kitchen is maybe not the coolest thing to do. And neither is destroying entire bowling alleys, just 'cause. Sure, he's still only 21, but he's making moves to appeal to a wider audience beyond his usual tween fandom. To that end, he'll be hitting the road on a new tour to promote Purpose come March 2016.
What's extra exciting about the Friday the 13th release date is that it just so happens to be the exact same day One Direction is releasing Made In The A.M., their latest album. Coincidence? I think not.
Tomorrow is going to be the biggest chart battle of the year, when both acts compete for the dollars of teenage market. While One Direction may have a bigger fanbase, Bieber's crossover appeal (meaning over twenty and under twenty) may tip the scales. Time will tell. By this time tomorrow we may be in a Bieber Renaissance, or, day I say... a Beibernaissance? (OK, too much, I know.) Though, according to an early review of the album in The New York Times, it's doubtful — writer John Caramanica found both Beiber's album and 1D's to be kind of meh, calling them all "joyless boys." (Ouch.)
Images: El Hormiguero/Flickr