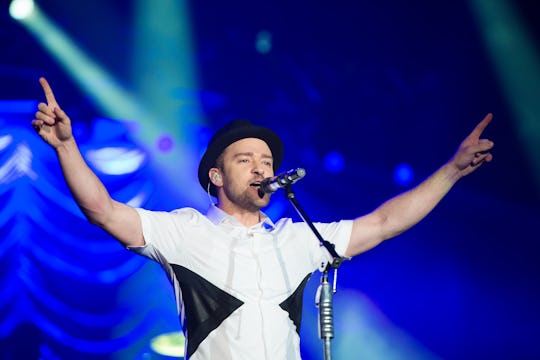 Buda Mendes/Getty Images Entertainment/Getty Images
When Will Justin Timberlake's New Single Debut? It's Bound To Be A Huge Hit
The wait is finally over. Justin Timberlake is releasing a new single in two days, and everyone, both enthusiastic fans and music lovers in general, is freaking out. In a surprise move, Timberlake announced his latest single would be dropping Friday, May 6 in a tweet on Wednesday night. The former NSYNC member teased the name of the track, tweeting, "2 more days... #CantStopTheFeeling."
It's been three years since Timberlake's last album, The 20/20 Experience, hit shelves, and his fans have been hanging onto every dropped hint with rabid anticipation. The single will reportedly be the first song released off of Timberlake's upcoming studio album.
Atlanta's Q100 tipped the public about Timberlake's exciting news. "Clocks keep ticking 'til Justin Timberlake," the radio station tweeted Wednesday afternoon. Initially, the singer only offered up the release date but, after continuous prodding from his 54.8 million followers, he relented and posted the single's name.
There may be more "Can't Stop the Feeling" dish to come. When a Twitter follower asked for a preview of the new track, Timberlake simply responded with the thinking emoji (so… fingers crossed emoji?).
A Kiss FM DJ, who got a sneak peak of the single, gave it a rave review. "I just heard the new @jtimberlake song!!! OMG! Smash!!!," he tweeted.
That same DJ dropped a few hints of what fans can expect "Can't Stop the Feeling" to sound like. "Curious about the new @jtimberlake song? Think 'For The Love of Money' by The O'Jays meets 'Uptown Funk' with all the JT flavor you love." He added the Timberlake's hit had "dance flavored, funky back to pop roots."
Timberlake has been back in the studio for months working on his fifth studio album. He's pairing up with past-collaborators Timbaland and Pharrell, so we should expect some serious R&B hits in the new album.
In a refreshing twist, the Tennesee-native has also been writing with the country band Little Big Town. He announced the collaboration on Instagram in a photo featuring band members Karen Fairchild and Kimberly Schlapman. He captioned the pic, "NBD… Just writing with @littlebigtown This band is the truth!! So good!!!!!"
Producer Timbaland even copped to working on some country tracks with the "Sexyback" singer. "We are country. He's from Tennessee and I'm from Virginia. It's only right that we tap into what we were raised on," Timberlake's longtime collaborator told TMZ last November.
"We always wanted to do country music—we thought some of our lyrics were country," the hitmaker added. "I'm already posted up in Nashville, so that's something I want to do. I don't discriminate between genres. I learn it, I study it, and I love it."
It's not surprising that the singer is turning towards his country roots for his latest album. Last November, Timberlake joined country singer Chris Stapleton on stage at the Country Music Awards. The duo performed the George Jones classic "Tennessee Whiskey" along with a song written by Timberlake, "Drink You Away."
It took Timberlake seven years after FutureSex/LoveSounds to release the double-album, 20/20, so in the grand scheme of things the three years between then and now is not so bad. Plus, in the interim, Timberlake has been busy acting, producing, and becoming a new dad. But after 20/20 laid out his musical vision with perfect clarity and won him multiple awards, fans were hungry for more and now, it seems, they'll have it in two days with "Can't Stop the Feeling."