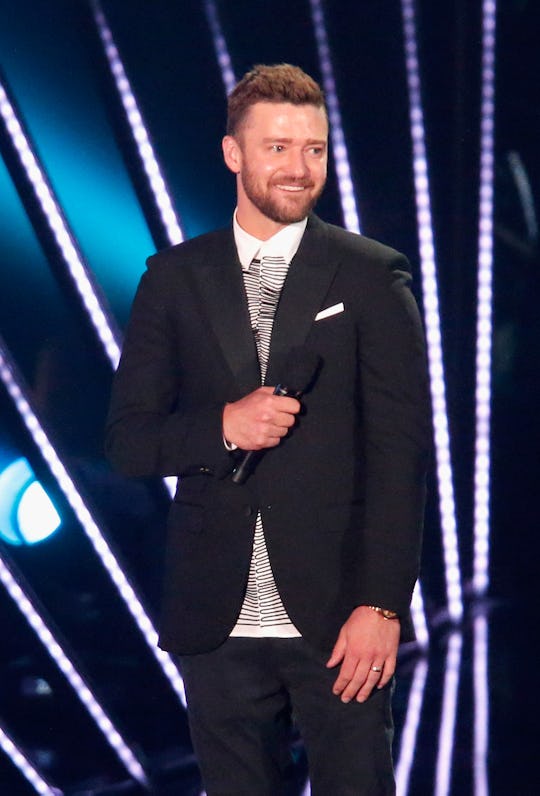 Rich Polk/Getty Images Entertainment/Getty Images
When Will Justin Timberlake's Next Album Come Out? He's Been Busy In The Studio
Singer-songwriter-heartthrob Justin Timberlake dropped a new single today, and it's already being touted as the song of the summer. "Can't Stop the Feeling" is an upbeat, poppy tune that is pretty undeniably Timberlake, and the video features puppies, arcade games, and a dancing Anna Kendrick, so you can tell it's a pretty feel-good song all around. For those fans who want a bit more Timberlake goodness than just one song in their playlists, though, when will Timberlake's next album come out?
Unfortunately, there's no set date yet. "Can't Stop the Feeling" is not actually a precursor to a swiftly-following album drop; rather, the song is from the soundtrack for the upcoming movie Trolls, which is set to be released in October with an all-star cast. The good news, though? Timberlake is working on a follow-up to his 2013 album, The 20/20 Experience, and it sounds like it might be a departure from his usual sound.
On Friday, the same day the single was released, Timberlake told 97.1 Amp Radio, "I don't know exactly when I'm going to put it out, but yeah, I'm definitely working on a new album." (Maybe this is a red herring, and he'll actually drop the new album super soon. I mean, Beyoncé is making surprises all the rage in the industry, right?)
Timberlake has also dropped hints that his next album will be a little bit country. "I think where I grew up in America has a lot of influence," he told the radio station. "Growing up in Tennessee — very central of the country — Memphis is known as being the birthplace of rock and roll, but also the home of the blues, but Nashville's right down the street so there's a lot of country music."
Timberlake has also been posting photos with pretty awesome musicians lately, piquing the public's interest in possible collaborations. He was seen out and about with The Weeknd (please let that turn into a collab, music gods), writing songs with Little Big Town, in the studio with Pharrell Williams and possibly recording with Timbaland. He's also made pretty good friends with Taylor Swift in the past while, so I wouldn't be surprised if they teamed up. (Delighted? Yes. Surprised? No.)
Other than that, Timberlake has been keeping busy with his and Jessica Biel's 1-year-old son, Silas. Between awards season, recording a new album, acting in Trolls, and caring for a little one, he's definitely got his hands full. I'm crossing my fingers that an album will quickly follow "Can't Stop the Feeling" — but with his busy schedule, I think fans will understand if it takes a little while longer.