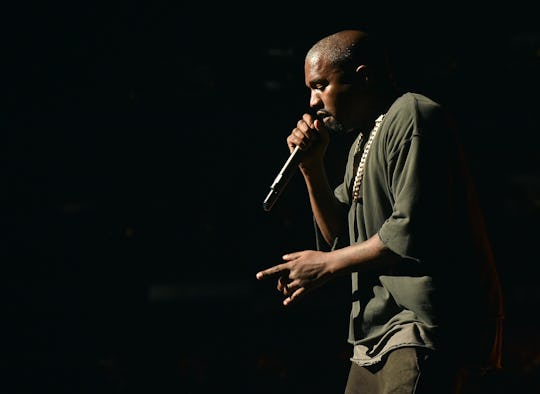 Kevin Winter/Getty Images
When Will Kanye West Release New Music Every Friday & How Can You Get Your Hands On It?
Not only does Kanye West have a new album up his sleeve, but he's resurrecting one of his previous promotional ploys for it, too. If his wife, Kim Kardashian West is to be believed, it looks like Kanye will be releasing a new song every Friday. You can find Yeezy's newest tracks easily as he drops them weekly: West will be releasing new music on his website, KanyeWest.com, and on his Soundcloud page. So far, he hasn't dropped his tracks at specific times, releasing "FACTS" at 9 p.m. one week, and "Real Friends" just after noon another — because what's better than keeping fans guessing?
West used the same Friday release tactic in 2010, leading up to his album My Beautiful Dark Twisted Fantasy. He called the campaign "G.O.O.D Fridays" and released new songs for 15 weeks. It was kind of genius — it made it a drawn-out promo campaign and got fans hyped every single week. Depending on how long his new album Swish is — and judging by the length of his other albums it should be pretty substantial — this campaign means West could draw out the hype all the way until the Swish release date, February 11.
West collaborated with quite a few artists for the songs already released. "No More Parties in LA" — which was teased at the end of "Real Friends," was produced by Madlib and was a collaboration with Kendrick Lamar. "Real Friends" had a sample by Frank Dukes and Boi-1da, and featured drum programming by Havoc. With each new song released, fans are getting psyched for the full release of West's seventh album. (The last album released by West was Yeezus in 2013, so it's been a while.)
Oddly, it's West's wife, Kim, who's mostly been spearheading the campaign for Swish and was the one to announce the return of G.O.O.D. Fridays. Then again, with double her husband's followers and a busy track record of killing it with her TV show, app, and, most recently, her emojis — maybe it isn't so odd after all. Joining forces with his wife's promo power and the awesome marketing of G.O.O.D. Fridays might prove to be West's most successful campaign yet.
At the end of the song he dropped Friday, "Real Friends," West also hinted at the song we can expect next week: "No More Parties in LA," so keep his SoundCloud open in a tab next week for the full version. I have a feeling fans will be refreshing constantly — or maybe Kim Kardashian West will tip them off. Either way, get ready for Yeezy-mania every Friday from now until February 11.
Images: Kevin Winter/Getty Images