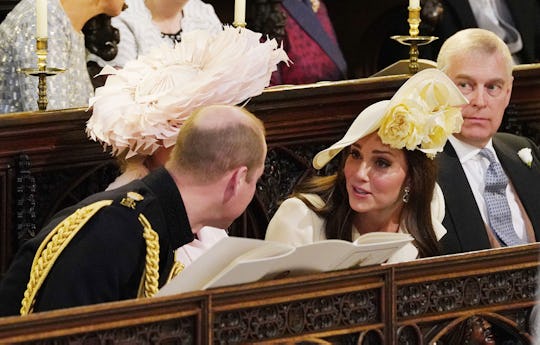 WPA Pool/Getty Images Entertainment/Getty Images
Kate Middleton's Next Royal Appearance Could Be Much Sooner Than You Think
Less than a month after giving birth to her third child, Kate Middleton made her first official — postpartum, that is — appearance on May 19, at Prince Harry and Meghan Markle's wedding. And the Duchess of Cambridge looked simply stunning, as usual. Although newborn Prince Louis wasn't along for the ride and Middleton didn't technically have a role in the wedding, she managed to stay busy with her two older children, Prince George and Princess Charlotte, who served as a bridesmaid/page boy during the ceremony. Naturally, the duchess' presence at the highly-anticipated nuptials on Saturday has left royal fans wondering when they'll be seeing her again. So when will Kate Middleton's next royal appearance be? Well, as it turns out, it could be sooner than you think.
As ABC News reported, Middleton is technically on maternity leave for several more months to come. She is expected to return to her royal duties after six months, the same timeline that she followed after the birth Princess Charlotte. (Since Prince Louis was born on April 23, that puts the end of her maternity leave somewhere near the end of October.)
However, there is a catch. Although Middleton won't be returning to her royal duties full-time until October, that doesn't mean she'll be completely out of the public eye. The royal wedding was a perfect example. For her first post-baby appearance on Saturday, Middleton wore a pale yellow dress designed by Alexander McQueen — the same designer who created her 2011 wedding gown, Good Housekeeping reported. And she totally rocked it.
Middleton is anticipated to attend Queen Elizabeth II's annual birthday parade — called Trooping the Colour — on June 9, as Town & Country reported. And of course, there will also be Prince Louis' christening, which will likely take place sometime in July based on the timing of the previous royal babies' christenings. (Princess Charlotte was born on May 2 and was christened on July 5, ABC News reported.) Personally, I'm most looking forward to Prince Louis' christening. Not only will we be able to see the stunning Kate Middleton again, but the world will also have an opportunity to catch another glimpse of the youngest member of the royal family.
Fans were able to see Prince Louis for the first time on the day he was born when the Duke and Duchess of Cambridge introduced him on the steps of St. Mary's Hospital, as E! News reported.
After the proud parents went back inside the private Lindo Wing of the hospital, they re-emerged with Prince Louis in a car seat to head back home.
Since then, the last time we saw Prince William and Middleton's third child was when Kensington Palace released the newborn's first official portraits on May 5, Cosmopolitan reported.
Although it isn't clear if Prince Louis will be joining the rest of his family for Trooping the Colour on June 9, royal fans can likely look forward to seeing Middleton (at least in photos). That means we'll see her at least once in June and once in July. After then? Who knows when the Duchess of Cambridge will be spotted. But that's completely fine because for now, Middleton is exactly where she needs to be: Bonding with her youngest child and spending time with her older two children.
If you remember, Middleton wrapped up public events before maternity leave on March 22 with series of engagements celebrating Commonwealth. So the Duchess of Cambridge had a chance to take it easy for about a month leading up to labor and delivery — and then for six months afterward.
Prince William, on the other hand, isn't afforded an extended leave from his royal duties — or much time off at all, for that matter. In fact, the Duke of Cambridge attended an event two days before Prince Louis' birth and two days afterward, according to the Kensington Palace Twitter account. (Where video of the exhausted father infamously dozing off was captured.)
So there you have it. June 9 will probably be the next day we can count on seeing Kate Middleton making an appearance at a royal event. Meanwhile, we'll probably see Prince William plenty of times before then. (Because apparently, dads don't need that early bonding time as much. *Eye roll*) Hopefully, the Duke of Cambridge is managing to get a little more sleep these days!