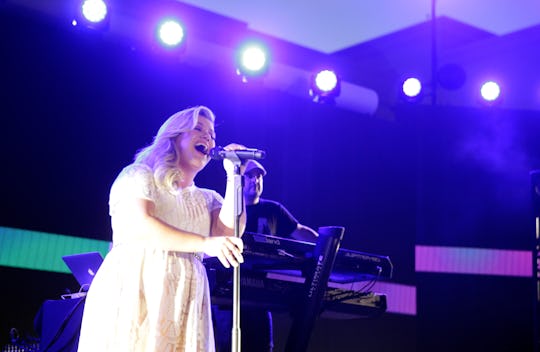 Isaac Brekken/Getty Images Entertainment/Getty Images
When Will Kelly Clarkson Release New Music? She Has So Many Projects In The Works
It's been 14 years since Kelly Clarkson won Season 1 of American Idol, but the singer-songwriter has been just as busy recently as she was when she first launched her music career. Clarkson performed an amazing medley of her songs over the past decade and a half on the American Idol finale on Thursday, bringing her array of girl power anthems center stage. With that amazing performance as a reminder of her talent, some people might have been wondering: when will Kelly Clarkson release new music? Because, I don't know about you, but I'm always ready for a new kick-butt, uplifting Kelly Clarkson song to get me pumped up, whether I'm confronting the gym, a scary work project, or... you know, the dishes.
Clarkson hasn't hinted at any new album releases recently, and she only dropped her latest album, Piece by Piece, a little over a year ago. Since the album release in February 2015, she's collaborated with Josh Groban on "All I Ask of You" and Ben Haenow on "Second Hand Heart." She has also been — in case you missed her pregnancy bump during her American Idol finale performance — pregnant with her second child while doing all of this. If she's managed to fit in work on a new album at the same time as all of that, I'd be surprised and ridiculously impressed.
During a large portion of 2015, Clarkson was also busy with her North American tour for Piece by Piece, which kicked off in July and ran until September, when Clarkson had to cancel the remaining portion of her tour due to doctor-ordered vocal rest. Before that, however, Clarkson announced her second pregnancy during a show on the Piece by Piece tour, after tearing up during a song.
"I was not planning on announcing this but I'm totally pregnant," she told the crowd, according to Us Weekly. "I didn't want you to think I was on pills or something! Everything is great. I haven't vomited yet — that's a win!"
If you're missing your dose of Clarkson, though, and you've already run through her old albums, don't worry. While she hasn't announced a new album release yet — and seems fairly busy at the moment — Clarkson will be publishing her first children's book this October. Named after her first daughter, River Rose and the Magical Lullaby will be released on Oct. 4, 2016 and the rhyming picture book can be pre-ordered now.
Hopefully that'll be enough Clarkson creativity to tide you over until the next album — though I'm sure fans wouldn't complain if a new album was announced sooner rather than later.