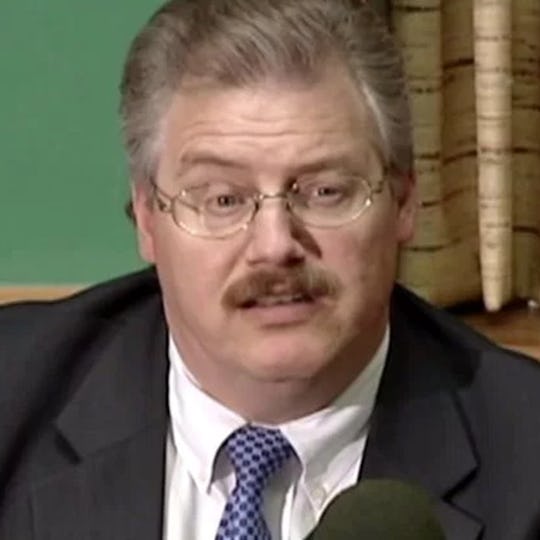 When Will Ken Kratz's Book Be Released? The 'Making A Murderer' Prosecutor Is Ready To Tell His Side Of The Story
Followers of Steven Avery's case may be getting a tell-all from Making a Murderer's now-famous prosecutor Ken Kratz (because what's a story if you can't hear both sides, right?). Green Bay ABC affiliate WBAY reported this week that Kratz had confirmed he was working on a book about his time on the viral murder case — more importantly, he said he was doing it "because the one voice forgotten to this point [in the Making a Murderer frenzy was] Teresa Halbach." So when will Ken Kratz's book be released?
So far, a publication date hasn't been set, but Kratz said this week that a draft was definitely in the works. Fans of the Netflix series have been swaping theories online for the past few months, discussing whether Avery was truly guilty in the murder of Teresa Halbach — and now Kratz has said he's hoping to provide some answers.
According to WBAY, Kratz was thrilled about the project. "Finally grateful to tell the whole story," he told reporters. News of the book comes at the same time as a letter from Kratz to Avery circulates online. Yahoo! TV reported that Avery wrote to Kratz in August 2015 asking for him to examine "other fingerprints found on Teresa Halbach's car" in order to determine whether Avery may have been framed. Kratz wrote that he misunderstood past letters from Avery, assuming that Avery wanted to confess.
The attorney called Avery's insistence that he was set up "nonsense" before allegedly mentioning a possible book, saying
By the way, the difference between you and famous convicted murderers from the past is that they told their whole truthful story to someone, who then wrote a book about what actually happened and people got to understand both sides. I was willing to do that for you… but if you are going to continue to lie about what happened between you and Ms Halbach, I am not interested.
Now that the text of the letter is up online, Kratz is facing backlash. According to USA Today, Avery's attorney Kathleen Zellner tweeted the full text of the letter and condemned it:
Zellner only started working with Avery in 2016, but she's open in her questioning of Kratz's motives and tactics.
Fans of Making a Murderer may have varied responses to Kratz's letter, but it's likely that his book will be a must-read for those following the case. For now, it doesn't look as though Kratz will get inside info from Avery, but he may go beyond what Netflix could show. When it comes to Making a Murderer, Kratz is convinced that critical evidence absent from the series undermined the argument against Avery. With a book, fans will finally get to know the story from his perspective.
Images: Making a Murderer/Netflix screengrab