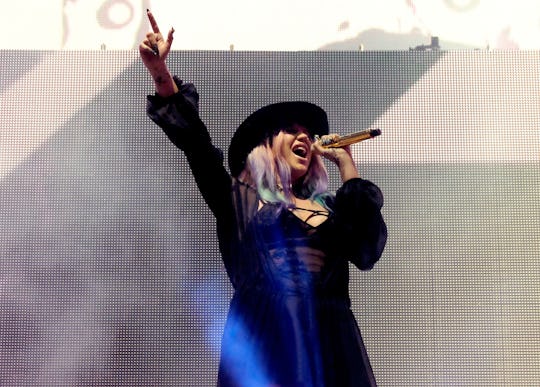 Frazer Harrison/Getty Images Entertainment/Getty Images
When Will Kesha Release A New Album? It Looks Like She's Back In The Studio
It's been a rough year for Kesha, thanks to her ongoing, painful legal battle with her former producer, Dr. Luke. But, in what is likely to be the best news ever for Kesha fans, it looks like she may finally be recording again. According to People, after Kesha performed a set with Zedd at Coachella earlier this month, the two met up again in the studio on Tuesday — and Kesha even posted a photo to Instagram as proof. So, naturally, that leaves one very important question: when will Kesha release a new album?
It's too early to say if or when the music she's currently working on will be released, or whether it will make its way onto her next album. After all, her request for an injunction against Dr. Luke was turned down, and she is still contractually obligated to Sony to release six more albums, according to the New York Daily News. But, judging by her most recent Instagram post, Kesha seems more upbeat and inspired than she has been in a very long time, which is amazing to see. Along with the black and white shot of her singing in a recording booth, Kesha wrote,
It's a miracle when someone gives you a chance at finding your voice again with no reason other than that he is a f---ing beautiful person with a heart of gold @zedd #truecolors
But Kesha isn't the only one excited about the collaboration. Zedd posted his own photos to Instagram showing the two working together, although Kesha's face isn't directly visible in the shots.
According to the Daily Mail, Zedd and Kesha's working relationship began as a result of the DJ reaching out to Kesha on Twitter amidst news of her legal battle. In February, he tweeted at the star and offered his services, writing,
Very very sorry to hear about the whole situation. I'll be happy to produce a song for you if you want my help.
What's not quite as clear is how the music the two create can legally be used. Kesha and her legal team have long argued that, without the injunction, she wouldn't be able to record or work with anyone else, and since the injunction was denied, it isn't clear if the work she is doing with Zedd has been sanctioned by her record label. But, according to Rolling Stone, Dr. Luke's lawyer said in a statement that Sony has already agreed to allow Kesha to continue recording for them without Dr. Luke:
The New York County Supreme Court on Friday found that Kesha is already 'free' to record and release music without working with Dr. Luke as a producer if she doesn't want to. Any claim that she isn't 'free' is a myth.
If that's the case, it sounds like it might be entirely possible that the music Kesha is making with Zedd could be the beginning of her next album. And judging by her Instagram post, it sounds like an incredibly positive project that her fans will be super excited to hear.