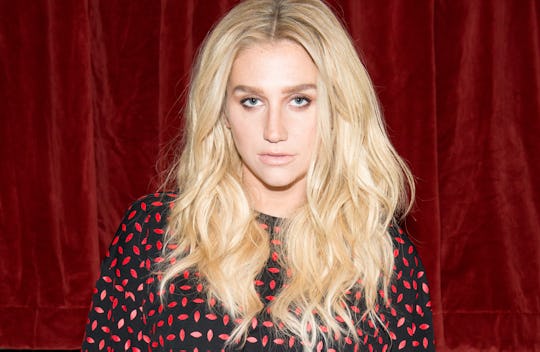 Noam Galai/Getty Images Entertainment/Getty Images
When Will Kesha Release New Music? It Depends On The Singer's Next Steps
#FreeKesha is still going viral after the "Tik Tok" singer was denied an injunction against Sony last week. As she fights with Sony Music Entertainment in court, a judge ruled, she still has to honor her contract. Kesha doesn't have to jump into the recording studio after facing the jury, but the court's decision makes it tricky for her to move on with her career. So when will Kesha release new music? It depends on who you ask.
It's common for artists to sign long-term contracts with their labels. This is great if a musician loves who they work with and if the terms are fair, but there are plenty of opportunities for the relationship to sour. Katy Perry's struggles with her first label were outlined in her 2012 documentary Part of Me, and JoJo sued to get out of a contract. So, Kesha isn't alone, but the circumstances surrounding her dispute make this a particularly challenging case. Kesha alleged that Dr. Luke of Kemosabe Records physically and emotionally abused her, The Washington Post reported. She claimed that she was allegedly drugged and raped by the producer, and alleged that Dr. Luke threatened to end her career and ruin her family's lives is she spoke out about the rape, according to CBS News.
Dr. Luke's legal representation denied the accusations, according to Rolling Stone. In a statement released Monday, attorney Christine Lepera wrote that she thinks Kesha was financially motivated to pursue legal action against Dr. Luke:
As Dr. Luke has said repeatedly, the allegations against him are outright lies that have been advanced to extort a contract renegotiation and money. Kesha and her counsel have cavalierly subjected Dr. Luke and his family to trial by Twitter, using a vicious smear campaign to ruin his reputation for financial gain while failing to support their claims. Kesha to date has never verified the allegations in this case -even when given the opportunity in her affidavit. Nor has she ever offered a credible explanation as to why she would have signed a second recording agreement, recorded two albums and an EP and signed a publishing deal with Dr. Luke after allegedly being sexually abused. It will further be shown that the incidents alleged never happened.
Update: Linda Carbone, founder of Press Here, which represents Dr. Luke, also issued the following statement to Romper regarding Kesha's allegations that Dr. Luke physically and mentally abused her:
Kesha's allegations against Dr. Luke are false, concocted to smear him publicly so that Kesha can get out of standard industry contracts that she entered into after she claims the alleged incident occurred. We have publicly insisted all along that Kesha should admit her lies and tell the truth. Everyone has a responsibility to learn the facts before condemning Dr. Luke in the media, particularly since Kesha swore under oath that her allegations are false. When the truth wins out in court, everyone will recognize that Kesha has victimized Dr. Luke and actual victims of sexual assault with her lies.
Currently, Kesha is contractually obligated to let Dr. Luke produce a minimum of "six songs on each of her albums," according to The New York Times. Lawyer Mark Geragos said that this brings her career to "a standstill." Dr. Luke's representation disagrees. In the same Monday statement, Lepera said that Kesha can still record music:
The New York County Supreme Court on Friday found that Kesha is already 'free' to record and release music without working with Dr. Luke as a producer if she doesn't want to. Any claim that she isn't "free" is a myth. The sound decision Friday by the Court in denying Kesha's motion for an injunction made it clear Kesha's allegations of purported abuse were unconvincing and that she had no basis to void record contracts and copyrights. Dr. Luke and his companies invested in Kesha's success through their contributions, Sony Music has already spent over $11 million promoting Kesha, and Sony Music and its label Kemosabe Records are committed to continuing to promote her work.
Technically, it seems as though Kesha may continue recording music as long as she's willing to work within Kemosabe Records, even if she doesn't collaborate with Dr. Luke. She's not in a position to record music outside of her contract since the injunction was denied. Court proceedings will determine whether Kesha can ultimately escape her contract. If Kesha refuses to do any work under Kemosabe records, that may mean fans won't be hearing new music from her for a long time.