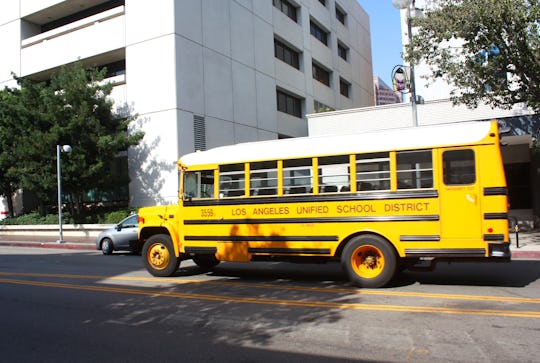 dany13
When Will Kids Safely Return To The L.A. Unified School District? A Bomb Threat Closed More Than 900 Schools
All schools in the Los Angeles Unified School District have been closed due to a bomb threat called in to an LA school board member on Tuesday, according to the Los Angeles Times. The unspecified but "credible threat" has shut down the second-largest school district in the country, which is comprised of over 900 public schools, and serves over 640,000 students, according to KTLA. When will kids safely return to L.A. schools? It's unclear, but officials are speculating that they might not return until Wednesday.
(Update: The L.A. school terror threat is believed to be a hoax, according to the House Intelligence Committee.)
Superintendent Ramon C. Cortines told the New York Times that schools will remain closed until the police have searched all the campuses involved in the threat, which was received electronically. The threat involved "many schools," said Cortines, and school board president Steve Zimmer added that the schools were "not specifically identified," which means that the issue could take quite a while to resolve, if police need to clear over 900 schools.
In a press conference on Tuesday morning, Cortines said, "Before the day is over, I want every school to be searched to make sure that it is safe for children and safe for staff to be there on Wednesday," according to CNBC.
A school spokesperson confirmed that the threat was made in an email to a school board member, according to NBC. The I.P. address showed that the message originated in Frankfurt, Germany, according to a news broadcast by CNN and a tweet from NBC.
Speaking to CNN's Ashleigh Banfield on live TV, Los Angeles Rep. Brad Sherman shared some details of the email that many now suspect to be a hoax. The sender identifies as an "extremist jihadist Muslim," and claims to have 32 accomplices who are planning to carry out attacks with backpack bombs and "nerve agent." However, the message makes a "pornographic reference to a body part," which is inconsistent with the behavior of a devout Muslim. Even more suspicious is the lack of capitalization of "Allah." Sherman acknowledged the unlikelihood that the entire message was credible, but stressed that in the event that "some parts" are true, "an overabundance of caution makes sense."
Zimmer asked the LA community to be understanding of its investigation, according to CNBC:
We need employers to show the flexibility that a situation like this demands. And we ask you to show the maximum possible flexibility with your employees who are primarily mothers and fathers and guardians today in this situation.
According to the Washington Post, the Los Angeles Police Department is investigating the threat in conjunction with the LA County Sheriff's Department, the FBI, and the Bureau of Alcohol, Tobacco, Firearms and Explosives.
Authorities in New York told the New York Daily News that a "specific but non-credible threat" was also made against New York City schools Thursday morning, but it's unclear whether it was in any way related to the L.A. threat. Schools in New York remain open. The threat was considered by police to be a hoax; Mayor Bill de Blasio called the message "outrageous" during a televised press conference, and Police Commissioner Bill Bratton joked that the sender seems to be a big fan of Homeland, as the threats contained in the message mirrored plot lines from the popular drama.
NBC News reported that a decision will be made late Tuesday afternoon on whether schools will be safe to reopen on Wednesday.
At about 10:05 a.m. PT, Cortines addressed the press for a second time before introducing Los Angeles Mayor Eric Garcetti. Garcetti said the decision to close the schools wasn't his to make, but it was his to support. "Our first job is to ensure that people are safe," he told the crowd.
The superintendent's decision to close the schools had to be made "in a matter of minutes," Garcetti said, but "in talking to our counterparts in New York and learning of other places, we're now... we realize that we were not the only city to face that threat." This seems to confirm that the threat received by LAUSD was the same threat New York determined to be a hoax. Garcetti continued, "We will continue to hope that this is nothing, and that our children can be back at school tomorrow."
Image: dany13/Flickr