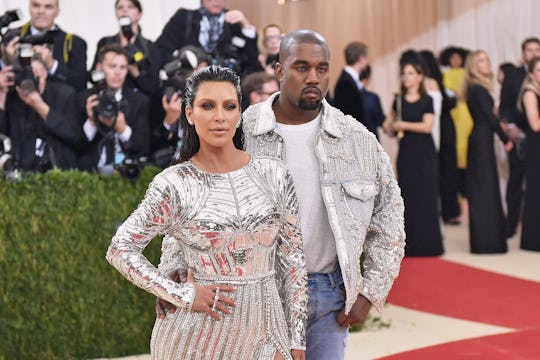 Mike Coppola/Getty Images Entertainment/Getty Images
When Will The 3rd Kardashian-West Baby Be Born?
It looks like Kim Kardashian West's dreams of a big family may come true. On Wednesday morning, news broke that the reality star and husband Kanye West would be hiring a surrogate to have their third child. Since the couple has talked about surrogacy in the past, many think this plan has been in the works for some time. This leads some to wonder when will Kim Kardashian West's surrogate have their baby.
Update: On Jan. 15, Kim Kardashian West and Kanye West welcomed their third child, a baby girl, via surrogate.
Earlier: People broke the news after a source confirmed to the publication that Kardashian would be using a surrogate. Details are limited as of now, as the couple has yet to release the news themselves. (Not to mention, it's ultimately no one's business but the family's.) It is unclear whether the surrogate is currently pregnant, which makes determining the due date on the third Kardashian child impossible to determine.
The news doesn't come as a total shock to fans of the reality start turned business woman, who has been very open about her desire to expand her family and her struggles to make that happen. In a blog post on her website, Kardashian described the complications she faced during both of her pregnancies, which included preeclampsia and placenta accreta. In describing her 2013 pregnancy with North West, she wrote:
Last pregnancy, I had a condition called preeclampsia, which is a serious condition you can get during pregnancy; often, the only way to get rid of it is to deliver early to protect yourself and the baby. Only about 5 percent of woman get this. Lucky me! It causes your body and face to swell, and that was very uncomfortable for me. I had early-onset preeclampsia and I had to deliver at 34 weeks, almost six weeks early.
We induced my labor and I had North soon after. Right after delivery, the placenta usually then comes out. Mine did not. My placenta stayed attached inside my uterus, which is a condition called placenta accreta. This is a high-risk condition that happens when the placenta grows too deeply into the uterine wall.
She then went on to describe the aftermath of her labor and delivery, which required a doctor to, "stick his entire arm in me and detach the placenta with his hand, scraping it away from my uterus with his fingernails."
Due to her previous pregnancy conditions, doctors told Kardashian it would be unsafe for her carry another child. But following a 2016 robbery in which Kardashian was held at gunpoint, she decided to undergo a procedure to repair her uterus in order to proceed with a pregnancy. Fans were able to witness the procedure and hear the stars side of things in a March 2017 episode of Keeping Up With The Kardashians.
"I have to have a surgery on my uterus to kind of repair this hole, so they need to like clean that out and then there's scar tissue," Kardashian explained to her family in the episode. "It will still be a really high-risk pregnancy, just you'd be able to get pregnant."
Unfortunately, the surgery didn't take and Kardashian was left with only one other option: surrogacy. Despite their initial hesitations, Kardashian's mother and sisters have become supportive of her decision, with Kris Jenner and Kourtney Kardashian offering to act as surrogates for the star, according to ET Online.
It seems, however, Kardashian has potentially gone with an outside surrogate. Though details on the surrogate and surrogacy are limited, it is a very happy day for the Kardashian-West family and their fans.