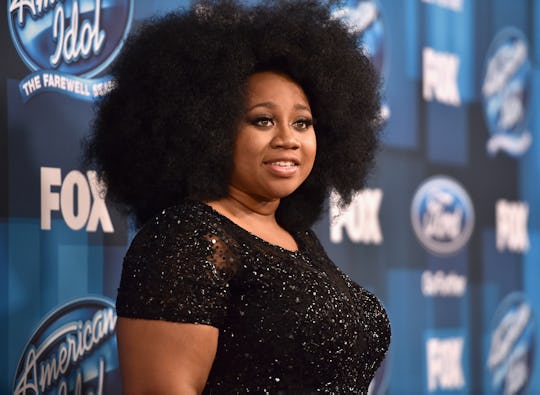 Alberto E. Rodriguez/Getty Images Entertainment/Getty Images
When Will La'Porsha Renae's Album Come Out? Whenever She's Inspired
On Thursday night, American Idol crowned it final winner — well, it's final winner "for now." I'll admit that Trent Harmon is a great singer and deserves all of the honor that comes with his new title, but I would be remiss if I didn't say I was shocked to see La'Porsha lose American Idol. And, I know I'm not the only one hoping that she would win solely for the fact that she'd have a for-sure record deal to produce an album. Well, even though she was the runner-up, La'Porsha did get a record deal, which might leave you wondering when La'Porsha Renae's album will come out.
Well, first of all, let's celebrate the fact that she is actually getting an album. It's not often that the runner-up walks away with an equally impressive recording contract as the winner. But, La'Porsha is a special breed of American Idol runner-up. According to Scott Borchetta, CEO of Big Machine Label Group and Idol mentor, because there was such interest in both of the Top 2 contestants this year, the label decided to sign both of the stars.
"Because of the overwhelming fan demand and success of the farewell season of American Idol, we have made the decision to sign both the winner, Trent Harmon, and runner-up, La'Porsha Renae, to exclusive recording agreements," Borchetta told Billboard. "I can't think of a better way to bring this American institution to a close. Everyone at the Big Machine Label Group, the Universal Music Group and Motown Records are so thrilled with the outcome and can't wait to get to work."
As for when La'Porsha's album will be released, neither Idol, Borchetta, nor La'Porsha have announced a date, yet. Borchetta did tell Billboard in another interview that the label is not interested in rushing the talent, but instead allows the music to come naturally. "The music comes out when it's ready. ... Neither Big Machine nor 19 want to put out a piece of product."
So, while we don't have an exact date for La'Porsha's album release, I'm hopeful it is sooner rather than later. Until then, I'll just cue up her performances in my YouTube list.