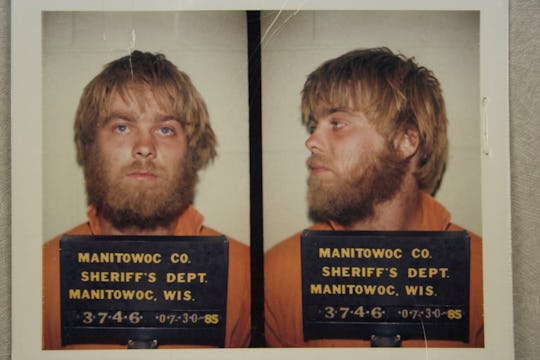 Courtesy of Netflix
When Will 'Making A Murderer' Season Two Start? The Answer Isn't Clear Yet, But People Will Definitely Be Watching
Brace yourselves — there may be even more true-crime madness on the way. At a meeting with reporters at the Television Critics Association's press tour in Pasadena, California on Sunday, Netflix head Ted Sarandos explained that producers and network officials were exploring the idea of a second season of the popular Making a Murderer series, which centered around a real life homicide case involving Manitowoc, Wisconsin man Steven Avery in the early '00s. So when will Making a Murderer season two start?
The answer to that question may not be so clear – at least not right now. "The story is still unfolding, so we'll certainly take a look at it," Sarandos said, according to a Variety report. He added that the series' success was "a crazy combination of a super-addictive [storytelling] and [viewers] having the time to watch it" over the holiday break this past December. "People were watching it and telling their friends who also had time to watch it during the holiday break," he said.
For now, while even the idea of a second season is still up for discussion, a concrete air date is out of the question. But that doesn't mean we can't take a guess. Since the first season of Making a Murderer was "10 years in the making", according to Sarandos (and filmmakers Moira Demos and Laura Ricciardi, who worked tirelessly to bring the series to life), it's unlikely that we'll see a new episode in the next year. Given all the legal hurdles and hoops that Demos and Ricciardi will have to avoid, it's more likely that 2016 will come and go before we're granted access to more Avery interviews and evidence. (Bummer.)
During Sunday's conference, Sarandos explained what he believed was the appeal behind the mammoth docu-drama series. "We're natural born detectives and love to watch these shows," he said, according to Entertainment Weekly.
Demos and Ricciardi too shared similar thoughts during an interview with Indiewire this past December. "Back in November of 2005, the day before Thanksgiving, Steven Avery made the front page of The New York Times, and the headline read, 'Freed by DNA, Now Charged in New Crime,'" Ricciardi recalled. "Moira and I were graduate film students at the time in New York, and we immediately recognized it as an unprecedented case and wanted to find out more. It was a really amazing story in the time."
Despite initially looking into the idea of a two-hour special or four part mini-series, Demos said that they knew they had to keep in as much of their material as possible if they wanted the documentary to be truly successful. "Along the way, we definitely had to make some hard decisions," she explained. "We always knew what the story could be and what the format to tell it properly would be. But [to do it the way most outlets would have wanted], we would have [had] to cut out parts of the story that were crucial."
In this case, quality over quantity might be best. Considering just how much blowback as surfaced as a result of the series' debut last year, maybe it's better that the two filmmakers slow things down and ensure that there aren't as many holes in the process as the first time around (critics have since called out the duo for allegedly dismissing important bits of information and painting the Manitowoc Police in a bad light).
As for viewers? They'll have to just wait impatiently until an official air date is announced (if it ever comes to fruition). But don't worry — whenever it's slated to debut, you can you sure it'll be just as addictive as the first time around. "There's a sense of injustice," Sarandos said on Sunday. "And [there's] certainly a sense of mystery."
Images: Courtesy of Netflix