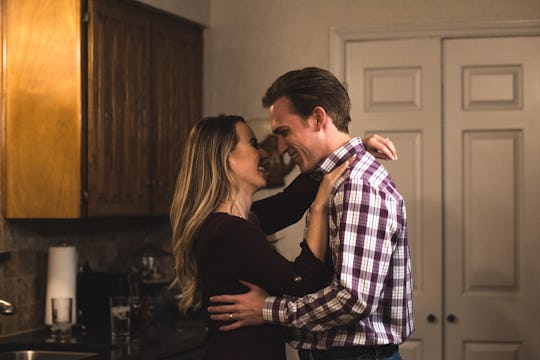 Valerie Chiang/Lifetime
Fans Want To See More Of 'Married At First Sight'
There are plenty of relationship-oriented reality shows out there, but none as fascinating as Lifetime's Married at First Sight. Each season, three couples are matched and then meet for the first time as they walk down the aisle on their wedding day. With the end of Season 7, fans are wondering, when will Married at First Sight return? Because watching these newlywed strangers is riveting, and fans can't wait to see more.
Lifetime hasn't revealed an official premiere date for Season 8 of Married at First Sight, so there is no way of knowing exactly when the season will return. But according to a report by Monsters and Critics, filming for the eighth season was scheduled for this July, which could mean you see the series return in the early part of 2019. The report also revealed that the show's production company, Kinetic Content, tweeted a casting call for the eighth season back in April, highlighting that the new season will take place in Philadelphia.
If Lifetime follows the show's past release schedule, it could be easier to pinpoint an approximate premiere date for the next season. Season 5 of Married at First Sight premiered in April of 2017, with Season 6 airing nine months later in January of 2018. Season 7 debuted in July of 2018, which was just seven months after the sixth season began, so an educated guess would put the Season 8 premiere date somewhere between February and April of 2019.
If you're a fan of Married at First Sight, waiting until next year may be difficult, but Lifetime has two new spin off series that should keep you entertained until then. Married at First Sight: Honeymoon Island premieres on Oct. 23, and according to the network, it will feature fan favorites from past seasons of Married at First Sight along with some new faces. In a synopsis for the show, the network said this group of 16 singles "will be invited to an exotic island for the opportunity to make deep connections and work on falling in love." At the end of their stay, they will have to "decide whether they want to get married or leave the island alone."
The other spin-off series, Married at First Sight: Happily Ever After premieres on Oct. 30, and will follow three couples "who have decided to stay married beyond the experiment" from past seasons. Shawniece and Jephte from Season 6 (Boston), and Ashley and Anthony from Season 5 (Chicago) are two of the couples featured on the series, and the network described it as a chronicle of their "daily milestones of married life — the good, the bad, and the ugly."
It will be interesting to see how the newlyweds are doing now, especially after learning that there are babies coming their way. In an Instagram post, Shawniece and Jephte announced that they were expecting a baby girl, and with the baby's September due date, her pregnancy and labor might be covered on the show. People reported that Ashley and Anthony are also expecting their first child, and on Instagram Ashley revealed that her baby is due in 2019. Watching their pregnancy news unfold on TV will be really exciting, especially if you are a fan who's been following the couples from the start.
So, with two brand new Married at First Sight spin off shows airing through the fall, waiting for the next season shouldn't be so hard. As for the Season 7 couples, you'll get to see if they continue with marriage or end up divorced on the Married at First Sight finale, which airs on Tuesday, Oct. 2 on Lifetime.