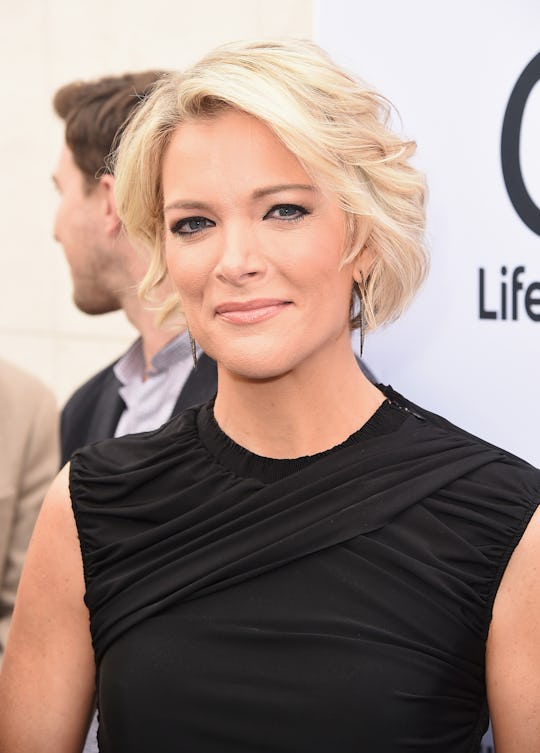 Kevin Winter/Getty Images Entertainment/Getty Images
Megyn Kelly Will Get A New Show On NBC
2016 was a big year for Fox News' Megyn Kelly, and it sounds like she is now poised for a promotion. According to The New York Times, Kelly will be headed to NBC News, where she'll be playing a big role. In addition to hosting her own "daytime news and discussion" show, she'll also be anchoring a Sunday night news magazine program, and participating in other special coverage. When will Megyn Kelly's new show start? NBC has yet to release any official details on the two shows, and given that Kelly is still under contract with Fox until this summer, it might be a while before she switches networks. But either way, it's likely to be a lucrative move for the in-demand anchor: as Fox News' second-most-watched host, Kelly's current contract reportedly has her bringing in $15 million.
In addition to her popularity among Fox News viewers as the host of her prime-time news show The Kelly File, Kelly gained prominence over the past year as a result of her feud with President-elect Donald Trump. After Kelly questioned Trump during a Republican presidential debate about derogatory comments he made about women, Trump hit back at her on Twitter and later told CNN that "there was blood coming out of her eyes, blood coming out of her wherever," according to ABC News. She later sat down for a one-on-one interview with Trump, only to have their feud reignited by former House Speaker Newt Gingrich, who accused Kelly of being "fascinated with sex" for asking about the Access Hollywood tapes, where Trump can be heard describing grabbing women "by the p*ssy" without their consent, while Gingrich was a guest on her show.
Though Kelly has had a long run at Fox News — she was hired 12 years ago after leaving a career as a corporate litigator, and then spending one year working in local TV, according to The Los Angeles Times — she hasn't made it a secret that she has been open to moving on. According to Vanity Fair, despite getting a renewal offer from Fox News for $20 million, which sources have speculated could have been her highest offer from any network, Kelly's decision was actually likely concerned less with salary and more with finding a working situation that would give her more time with her three children.
In a statement, NBCUniversal News Group chairman Andrew Lack said Kelly "is an exceptional journalist and news anchor, who has had an extraordinary career," and that the network feels "lucky to have her," according to USA Today. Kelly released her own statement about the deal on her Facebook page, where she confirmed she will be "launching a new daytime show Monday through Friday, along with a Sunday evening news magazine program," at NBC News, and said she was "delighted to be joining the NBC News family and taking on a new challenge."
Although Kelly is certainly able to command audiences, she's also been on the receiving end of a lot of criticism for her commentary and views. After landing on the cover of Vanity Fair's February issue with an accompanying headline praising her as "Fox New's Brightest, Toughest Star," Bust published an article entitled, "Megyn Kelly's Top Five Most Racist Moments, In Honor Of 'Vanity Fair' Cover," citing her remarks that Sandra Bland should have complied with police at all costs, and her opinion that Michelle Obama's comments about racism during a commencement address were an example of a "culture of victimization." Gawker also hit back at Kelly's cover story, noting that she had suggested that the shootings of Eric Garner and Michael Brown had nothing to do with race, and argued that Kelly,
...made a name for herself with her obsessive coverage of the New Black Panther Party, a small, irrelevant fringe group she repeatedly used as a stand-in for the entirety of Black America, for the purposes of frightening Fox News's old, white audience.
Whether you are a fan of Megyn Kelly, it sounds like her move to NBC News will be a big deal for audiences, and that we'll all be seeing more of her as a result.