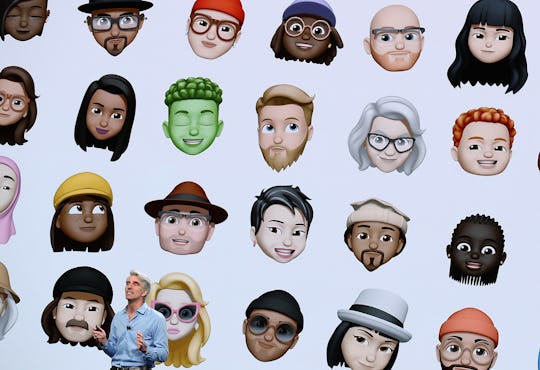 Justin Sullivan/Getty Images News/Getty Images
You Can Turn Yourself Into A 'Memoji' With Apple's New Update — Here's When You Can Do It
On Monday, Apple finally announced the release of iOS 12, and of course, all of the features that will come with it. Though there are really tons of questions to be asked before the software launches this September, what everyone is really dying to know is: When will memojis be released? The new avatar-based messaging feature will undoubtedly become everyone's new modus operandi come the fall.
Newsweek reported that at the annual Apple summit today, the iOS 12 was announced, and will officially be available for anyone who owns a iPhone 5S or newer in a few months. The most talked about features will undoubtedly be group FaceTime, wherein up to 32 people (!) can simultaneously video call, as well as the Animojis and Memojis, the former of which are already available on some devices, such as those who own an iPhone X.
For those who aren't familiar: Animojis mimic your tongue movements and create an avatar to speak as you. In this case, they're different types of animals that you can record with and then send via iMessage. Similarly, Memojis will do the same, except this time, you'll be able to choose an icon and customize it to look like yourself.
As for when Memojis will be available to everyone, the answer is pretty straightforward: September, when the new software is released. Apple claims that the software will be available to all Apple customers, and that they are specifically focusing on "older devices," according to Newsweek. This is likely an intentional move, considering that back at the end of last year, the company got a lot of flack for admittedly slowing down older models, presumably to encourage people to purchase new ones, as CNN reported.
However, iOS 12, and therefore, Memojis, will be available to all Apple users, which is a refreshing update. For those who already have the latest iPhone, the company shared on its official website how exactly to create and send a Memoji, explaining that the technology works as follows:
The TrueDepth camera on your iPhone X analyzes your facial expressions and mirrors those expressions in a dozen different Animoji in the Messages app. You can create your own Animoji and share it with anyone using an iOS device, Mac, or smartphone.
You can also currently make an Animoji sticker through your facial expressions, which is a pretty cool update as well. It's not clear if that feature will be available for Memojis yet, but it seems likely, given that the technology used to create both are the same.
Some other notable features, according to Apple, that will be available are an updated Do Not Disturb button, which limits the notifications you receive at bedtime, better search commands for photos, allowing you to browse not only by location, but also by year, event and so on, and app limits, which will not only show you how much time you spend on any given app, but can actually notify you when you hit your limit, that is, if you want to limit your screen time.
During the summit, Craig Federighi, Apple's senior vice president of Software Engineering, explained that the move is in an effort to help people better understand how they are using their time on their phones, presumably to be more mindful of just how often they are looking at screens throughout the day. The company's official website quoted him as saying:
In iOS 12, we're offering our users detailed information and tools to help them better understand and control the time they spend with apps and websites, how often they pick up their iPhone or iPad during the day and how they receive notifications. We first introduced parental controls for iPhone in 2008, and our team has worked thoughtfully over the years to add features to help parents manage their children's content. With Screen Time, these new tools are empowering users who want help managing their device time, and balancing the many things that are important to them.
Be that as it is, it's going to be challenging to put them down when there's an actual emoji of our faces. Lo and behold, it's the conundrum of the century.